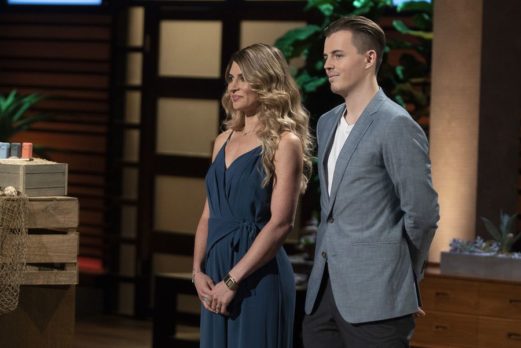 Emma Cohen and Miles Pepper created FinalStraw to bring attention to the problem of plastic waste in our oceans. They're also keen on making a profit. The message they bring to the season ten premier of Shark Tank is one of both conservation and profit. Profits aren't likely going to be a problem, the pair raised a whopping $,1894,878 on Kickstarter for pre-orders. That's over 75,000 straws!
Awareness about plastic waste in our oceans is on the rise. Cities and states are banning plastic straws at increasing rates. With over 88 pounds of single use plastic per human being per year added to the stream of waste, single use plastic is becoming a hot conservationist topic. Photos of sea turtles with straws caught in their nostrils spark outrage and help cause people to take a look at how they are conducting their lives. It also provides for a unique business opportunity.
FinalStraw is a folding stainless steel straw that fits neatly into a carrying case the size of a key chain. It comes with a squeegee for easy cleaning. It is the "final straw" you'll ever need! Pre-ordering will set you back $25; the regular price is $30. They say they'll start shipping in November. True entrepreneurship solves a problem while making a profit. FinalStraw appears to be doing both quite well. They want a Shark to join them in their journey to rid the sea of plastic waste, one drinking straw at a time.
My Take on FinalStraw
Plastic straw bans in California, Seattle, and many other locales are drawing national attention. Big companies like Starbucks and American Airlines are ceasing use of plastic straws too. This is an effort to help reduce the over 300 million metric tons of plastic waste generated globally each year.
When I was a kid, I remember paper drinking straws. Another Shark Tank company, Susty Party, sells paper drinking straws – I still have some in my cupboard. Their straws are compostable, not re-usable. Most people won't tote paper straws with them while they're out and about, but they will carry their keys, so FinalStraw has a big convenience factor going for it.
The added awareness about plastic straws will undoubtedly help sales, but plastic straws are a tiny portion of the plastic waste humans produce every year. Even many environmentalist acknowledge such bans will have a minute effect on global plastic waste, but they agree it's a first step in a much-needed larger behavior change. If letting go of a plastic straw can start to change the world, I am all for it.
I will be a customer. During the summer, I became increasingly active in the clean water movement here in Florida. Our state is choking on nutrient pollution and we have an obtuse political establishment that's better at pointing fingers than offering solutions. I joined with a recently formed non-profit group called Hands Along the Water to help fight this pollution problem through independent testing, education and political activism. We plan on selling FinalStraw as a fundraising item in our soon-to-be formed online store. I am IN!
Will Sharks Want a Sip?
One thing I've learned this summer is clean water is going to be THE issue over the next ten years. Between nutrient and plastic pollution, our rivers and shores – along with our aquatic life – is dying. Companies that can capitalize on clean water initiatives will thrive. The Sharks, as "aquatic" creatures, will understand this trend.
I am predicting a bidding war for this product. It has all the elements of a Shark Tank success story: trending product, proof of concept (Kickstarter), low price point etc. If there aren't at least three offers, I will be shocked. I won't be surprised to see five offers.