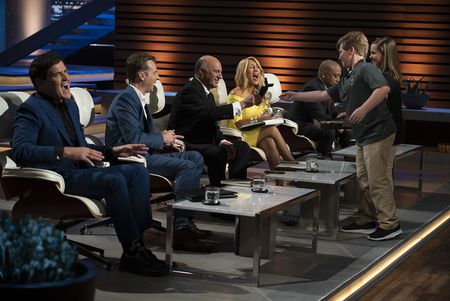 Tripp Phillips, with some help from his father Lee, invented LeGlue at age ten. He wanted to solve a problem: his LEGO projects kept falling apart on him. If you are a LEGO aficionado, you know it can take hours – or even days – to complete a project. One accidental bump or drop can ruin a lot of hard work. Tripp thought  some sort of adhesive would solve his problem, but he didn't want to use permanent glue.
After a little time in the family "laboratory," Lee and Tripp came up with a temporary adhesive that would hold those LEGO projects together. LeGlue works like glue, though it looks more like a putty. The beauty of it is it dissolves in water, leaving the LEGOS both unharmed and adhesive free. He had his solution, as long as he doesn't leave his projects out in the rain!
The motivation for Le Glue initially came from Tripp's third grade teacher. She challenged her students to come up with an invention. When she saw his idea, she encouraged Tripp to enter the International Torrence Creativity Awards, which he won! Shortly thereafter, Tripp raised $4000 on Kickstarter to get Le Glue off the ground. Tripp enlists his friends and family to manufacture, package and sell his product and he's done quite well for himself. In 2017, he sold over 7000 units and plowed all his profits into getting a patent. The patent was granted in April, 2018.
With a patent in hand, decent sales (for a fourteen year-old), and a product serving a huge market (seven LEGO sets are sold EVERY SECOND worldwide), Tripp and Lee hope a Shark will help them "end messy break-ups!"
My Take on LeGlue
We still have a big bucket of LEGOS in our home from when our kids were little. We're saving them for the inevitable visits from future grandchildren. Some of them date back to my childhood! When I was a kid, I didn't like the pre-designed sets – I liked making my own creations. I remember working hard on projects, only to have them fall victim to "drop and destroy."
My nephew is a LEGO fanatic. He has literally hundreds of LEGO sets he's carefully put together over the years. The are all proudly on display all over my brother's house. Going there is literally like walking into a LEGO store. I am going to get my nephew some LeGlue for Christmas this year! I am IN.
Will Sharks Get Stuck on This Idea?
Kids do well in the Tank, generally speaking. Mark Cuban invests in a lot of kid entrepreneurs, though some of them don't always work out. With strong sales and a patented product that almost every kid will want, I'm betting on a minor feeding frenzy on this pitch.
Mr. Wonderful will tout his toy industry experience and discuss some sort of licensing deal. Lori will like the price and "demonstrate-ability" of the product, plus its ubiquitous appeal. I'm not sure if Daymond or Jamie Siminoff make an offer, but Mark Lori and Mr. Wonderful will. I'm predicting a Mark and Lori team deal for LeGlue.