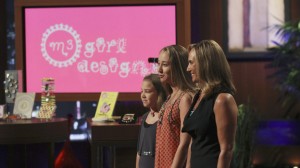 This is a guest post by Karen Dudnikov who co-authors Tabberone's Trademark and Copyright Abusers Hall of Shame. The opinions are Karen's and do not necessarily reflect the opinions of the SharkTankBlog, its editors, or authors. 
Trademark Lawsuits History
First, we have to tell you where we sit before we tell you where we stand on m3 girl designs. In 2001, we (Karen & Mike) were selling on eBay as the county in Colorado where we live has few regular job opportunities. In August of 2001, Warner Brothers terminated several of our eBay listings where we were selling hand-made items made from lawfully purchased Warner Brothers fabric sold in thousands of outlets around the United States. Warner Brothers backed off after we resisted. Then M&M/Mars attempted the same thing. They backed off in 2002 after we fought back. We learned our lesson. After that, we quickly filed federal trademark lawsuits when attacked by trademark and copyright bullies. Beginning in late 2002 through 2005, we sued Disney, Major League Baseball Players, Sanrio (Hello Kitty), United Media (Peanuts), and many others. Most preferred to settle rather than defend their assertions.
M3 Girl Designs Trademark Lawsuits
Some people do not like what we say on our website and how we say it. It has been our experience that it is a waste of time being nice to and about people and lawyers who are involved in the unethical use of threatening federal lawsuits to intimidate others into compliance. The original threats from m3 girl designs (the company name is all lower case letters) were based upon its claims of copyright ownership of an idea. When someone fought back they changed their approach to avoid having to defend a lie and claims of plagiarizing artwork by Maddie Bradshaw. m3 girl designs would have you believe that Maddie Bradshaw parlayed $300 into selling 50,000 bottle caps a month in two years.
m3 girl designs came to our attention in September 2009 when someone emailed us about the threats of trademark lawsuits being made by m3 girl designs. The Bradshaws were attempting to eliminate competition by sending cease and desist letters that claimed they owned the copyrights to bottle cap jewelry. Their attorney was falsely claiming a copyright on the idea of bottle cap jewelry. Faced with daunting attorney fees incurred from defending trademark lawsuits, most recipients of the letter stopped their "alleged" infringement and withdrew from the market. A few fought back. Those who did fight back, won for the most part.
The original cease and desist letters ALL made primarily copyright claims and not one of them made ANY trade dress claims. Several companies ignored the cease and desist letters and found themselves the defendants in lawsuits filed by m3 girl designs. Not one of the original trademark lawsuits made any trademark trade dress claims. But every one of the lawsuits made untenable copyright claims. One cannot copyright an idea but rather one can copyright the expression of that idea. Any attorney who claims an idea is copyrighted is lying to you.
Blue Brownies fights M3 Designs Trademark Lawsuits
Blue Brownies fought back and found itself in a long, and very prolonged legal battle. The legal battle began in early 2010, and in early 2012 m3 girl designs changed its legal claims, dropping the untenable copyright claims in favor of the ridiculous claims of trademark trade dress infringement.
At trial in June 2012, Diane Bradshaw and Maddie Bradshaw were well coached in their non-credible testimony but even the judge did not believe the evidence and testimony of trade dress infringement. The jury also rejected all claims made by the plaintiffs and found for the defendants on all counts. But the emotional and physical stress of the legal battle took its toll on the defendants, who had not done anything illegal when they marketed bottle cap jewelry. In the past, Maddie Bradshaw tried to convince the world that she had "invented" the idea of bottle cap jewelry and that the artwork was original to her. It was established in the course of the trial that Maddie Bradshaw was not telling the truth on either issue.
On our website, we go after m3 girl designs, Maddie Bradshaw and Diane Bradshaw because they were lying about their intellectual property rights in an effort to eliminate legitimate competition. While they appear to be very likeable and personable when they appeared on Shark Tank, they were, and we believe they still are, nothing more than schoolyard bullies who take the lunch money of weaker kids. The Shark Tank episode gives the impression that m3 girl designs got $300,000 for 30% of their company. They did not get a cent. Part of the pre-show agreement states that all offers made on the show are pending further investigation and verification. The Shark Tank investors withdrew their offer.
We go into detail about m3 girl designs and the Bradshaws on our website with documentation about all their copyright and trademark lawsuits to support our claims.
www.tabberone.com/Trademarks/HallOfShame/M3Girl/M3Girl.shtml
This was s a guest post by Karen Dudnikov who co-authors Tabberone's Trademark and Copyright Abusers Hall of Shame. The opinions are Karen's and do not necessarily reflect the opinions of the SharkTankBlog, its editors, or authors.