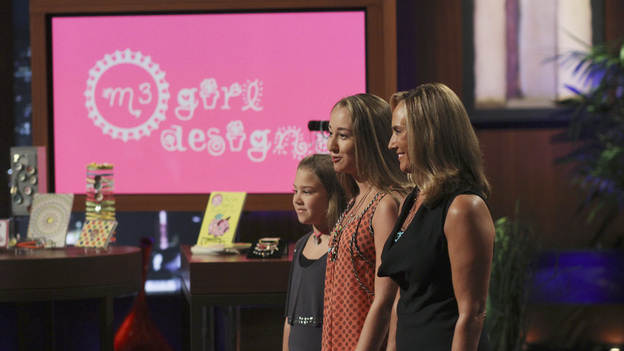 M3 Girl Designs was started by Maddie Bradshaw when she was ten years old and began making bottle cap magnets for her school locker. The business quickly morphed to include a jewelry line featuring bottle cap necklaces, hair ribbons, bags, and more. Maddie's mother, Diane, and little sister, Margot, are part of the business which is aimed at the "tween" market. The Dallas area entrepreneurial family pitched M3 Girl Designs to the Sharks as a team.
M3 Girl Designs in the Shark Tank
Maddie et al entered the Shark Tank seeking  $300k for a 15% share in her business. The story was quite compelling to the panel of Sharks. The products, as of the original air date, was in over 1,000 stores and had $5 million in sales over the last five years with $1.1 million of that coming in 2011. Maddie, Margot and Diane had the Sharks fighting for a piece of their booming business.
Mr. Wonderful likes M3 Girl Designs and offers $300K for 30% of the company. Lori wants in too and offers to partner with Mr. Wonderful for 40% with the caveat that she mentors Maddie. Daymond goes out in the middle of negotiations because he thinks other Sharks are better for M3 Girl Designs. Mark wants in, but he wants to partner with Lori on a 30% deal. Mr. Wonderful, now out of the Lori partnership, teams up with Robert on a $300K offer for 30%. Maddie, Margot and Diane confer.
In the end, Robert, Lori, and Mark team up on a $300K investment for 30% of the business. Mr. Wonderful is left out of the deal. Young Margot, in an epic Shark Tank negotiating ploy, says they'll only do the deal if it includes Dalls Mavericks season tickets. Mark counters with total access to his luxury suite whenever they want and the deal is sealed!
M3 Girl Designs Shark Tank Update
M3 Girl Designs continues to grow to this day. The company is selling their product in more stores and employs 10-12 sales reps. Maddie also authored a book entitled Maddie Bradshaw's You Can Start a Business, Too! At age 16, young Ms. Bradshaw, with the help of her mother and sister, has taken the business to the next level. The deal with Mark never closed – possibly due to litigation unrelated to the Shark Tank. It's unclear whether they have attended any Mavericks games.
Being a young "tycoon" has introduced Maddie to the trials and tribulations of litigation as well. There are at least 3 lawsuits involving M3 Girl Designs related to trademark infringement. The company was the defendant in one such lawsuit and the plaintiff in at least two more. None of the verdicts handed down were favorable to the business. You can read all about that HERE.
Maddie shuttered the company in 2015 to attend Stanford University. When she shut down, she had $5.2 million in lifetime sales. She went on to get a Masters of Education at Harvard in 2019. As of 2021, she's working as an instructional technology coach at The Wildwood School a private K-12 prep school in LA.
Posts on Shark Tank Blog about M3 Girl Designs