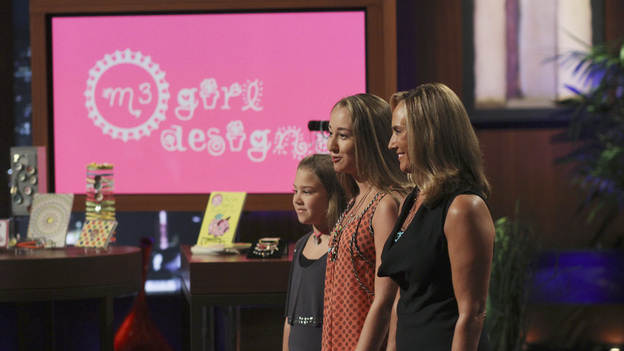 M3 Girl Designs is run by the mother/daughters team of Diane, Maddie, and Margot Bradshaw. The trio of female entrepreneurs appeared on Shark Tank and embodied one of the more curious business on the show to date.
Two kids and a mom selling crafts is not unusual in itself, what makes M3 Girl Designs unique is they entered the Shark Tank with $5 million in sales over 5 years with $1.6 million in sales in 2011. The fashion accessories, aimed at the "tween market," could be found in over 1000 stores as of show night. What makes the story even more compelling is 16 year old Margot Bradshaw invented M3 Girl Design's signature product, Snap Caps, when she was ten. She's even written a book called Maddie Bradshaw's You Can Start a Business, Too! At age sixteen, she's probably the only millionaire/author in her high school class!
Maddie began creating her decorative bottle caps in middle school to have cool magnets for her locker. Soon she was making them for friends. After a successful test run in a local toy store, she started a business around the bottle caps which includes jewelry, bags, ribbons and other accessories. Mom Diane handles the adult decisions, but Maddie and little sister Margot are very involved in the business.
M3 Girl Designs has 10 sales reps and can be found in small toy stores and funky boutiques all over the country. You can also buy M3 Girl Designs online. Several M3 Girl Designs products can be found in my own home as my girls just love them!
The girls came into the Shark Tank looking for a  $300k investment for a 15% stake in the company. While M3 Girl Designs was already successful by any stretch of the imagination, the mother/daughters trio wanted to take the business to the next level.  After they answered questions about the business, the Sharks were circling. M3 Girl Designs have a great price point in a HUGE market and the sharks knew it;  sharks can recognize the economic clout of GIRL POWER!
Kevin O'Leary immediately offered $300K for a 30% interest. Lori Greiner offered $300K for 40% and offered to personally mentor the young entrepreneurs. Offers flew and Mark Cuban and Robert Herjavec got in the mix as well. The three girls looked like deer in the headlights, but it was Kevin O'Leary who got run over!
The trio wanted to work with Mark, Lori, and Robert, but they wanted $300K for 20%. The Sharks wouldn't budge, so the Dallas area entrepreneurial family huddled up. When they emerged, 10 year old Margot announced they'd do the deal if Mark Cuban gave them season tickets to the Dallas Mavericks. Cuban countered by offering his luxury suite whenever they wanted it and the deal was done. Future shark tank entrepreneurs can learn a thing or two about negotiating from young Margot.