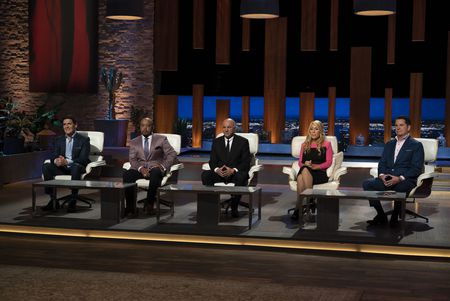 Guest Shark Matt Higgins makes his debut tonight in episode 1002. Higgins is co-founder and CEO of RSE Ventures,an investment firm that focuses on sports and entertainment, media and marketing, food and lifestyle, and technology. His business partner is Stephen Ross, owner of the Miami Dolphins. Higgins is also the vice chairman of the Miami Dolphins. He has many business interests across a wide variety of industries and his current portfolio will make him an interesting addition to the panel.
Episode 1002 brings four new businesses to the Tank. Marilyn and Sara Polon, a mother/daughter "souptrepreneur" team, pitch Soupergirl, their line of healthy vegan soups. Christian, Keira and Kaley Young hope the Sharks like Cup Board Pro, their late father's cutting board invention. It was their dad's dream to pitch on Shark Tank, now his kids are fulfilling it. Dmitri Love wants the Sharks to invest in his cryptocurrency investment app called Bundil. Chef Guy Vaknin hopes the Sharks go vegan with him as he seeks a partner for Beyond Sushi, his New York City chain of vegan sushi restaurants.
Which business gets a deal tonight?
Entrepreneurs
---
Update Segment – Matt Higgins
Tonight's "update" segment is a brief bio of guest Shark Matt Higgins.
There are 28 Shark Tank Episodes for Season 10. This season features more appearances by "guest Sharks," including billionaire Jamie Siminoff. The 200th episode also airs this season. Casting is currently closed, but it never hurts to get a head start on season ten! If you would like to appear on the show, check out our Auditions and Casting information.
Episode 1002 – The Shark Investors and Entrepreneurs
The Shark Tank Episode 1002 entrepreneurs will make their best pitch to the panel of five Shark investors who will use their own money if they choose to invest. The Shark Investors negotiate on the spot without any previous information, which differs from typical negotiations between venture capital investors and entrepreneurial start-ups.
Companies pitching the Shark Investors must go through a rigorous due diligence process before an on-air deal is completed. Shark Tank Blog follow ups help you keep track of the companies that end up successful and the ones that don't complete their deal.
Thank you for reading SharkTankBlog, the number one site for Entrepreneurs, Investors and Fans. Our content updates multiple times day, giving you the latest information on Episode 1002, Season 10, and all other seasons and episodes.
Episode 1002 Press Release
Shark Tank: Episode 1002 (10/21)
CO-FOUNDER OF RSE VENTURES AND MIAMI DOLPHINS VICE-CHAIRMAN,
MATT HIGGINS, JOINS THE 'TANK' ON AN ALL-NEW EPISODE OF 'SHARK TANK,' SUNDAY, OCT. 21
"Episode 1002" – A mother-daughter duo from Washington D.C., is passionate about their healthy vegan soups; an entrepreneur from Addison, Texas, pitches his new tool to make it simpler to invest in crypto-currency; a chef from New York, New York, wants to expand his vegan sushi restaurants across the nation; and in an emotional pitch, siblings from Long Island, New York, present the product of their late father, an NYC firefighter whose dream was to pitch on "Shark Tank" but passed away before he could, on "Shark Tank," SUNDAY, OCT. 21 (9:00–10:01 p.m. EDT), on The ABC Television Network, streaming and on demand.
The Sharks in this episode are Mark Cuban, Kevin O'Leary, Lori Greiner, Daymond John and guest Shark Matt Higgins.