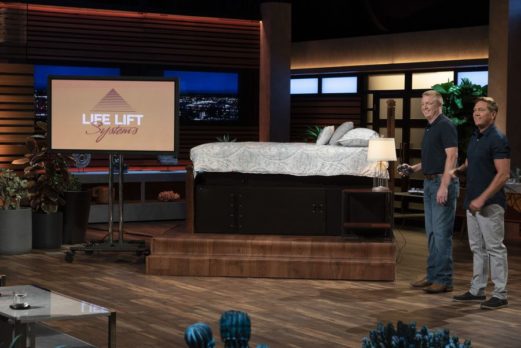 Levi Wilson and Tim Todd hope a Shark likes Life Lift Systems, their storm shelter/bed combo, in Shark Tank episode 1009. The Life Lift Systems beds protect people from tornadoes and hurricanes up to category 5. They're approved by FEMA and certified by the Texas Tech National Wind Institute. In addition to protection against wind and flying debris, they're bullet proof too. This protects you in case of a home invasion.
The structure fits under any standard bed, so there's no added space needed in your home. The company, based in Oklahoma, is right in the middle of tornado alley. Many homes in that part of the country have tornado shelters built into a closet or elsewhere in the home. The Life Lift Systems bed is for homes that don't have a built-in shelter.
The shelter, essentially a collapsible metal box, bolts to a concrete floor. If a tornado strikes, you pop up the bed and get in. It's even wheelchair accessible. There is a USB charger and ventilation. You could literally drop a car on this shelter and it would be fine. If there's a sudden emergency, you can still get inside through an emergency door.
There are a few options available, like a gun rack, safe and lighting. If you don't want a shelter under your bed, they'll customize it to fit under a pool table or kitchen island. Depending on the options you want, the Life Lift Systems costs anywhere from $4,600 to $5,500. Wilson and Todd hope the Sharks get a lift out of their invention and invest.
Life Lift Systems Company Information
Video

Posts about Life Lift Systems on Shark Tank Blog
Life Lift Systems Shark Tank Recap
Levi and Tim enter seeking $550,000 for 15% of the business. The Sharks are amazed when they demonstrate the beds. When the guys explain how storm-worthy the protective beds are, the Sharks are more impressed. They haven't sold many units yet, but they have $550,000 in sales. Each unit costs $3600 to make and wholesales for $850; Retail cost is $6000.
After explaining the perils of tornadoes and the hardiness of their system, the Sharks all think they're priced too low. The low margins could put them out of business. Their growth strategy is to get wholesale dealers and they already have two lined up. The fact that it's a niche product comes up, but it's not the main objection. Robert "likes it, but doesn't love it," and goes out. Kevin says they're selling life insurance and he goes out.
Both Mark and Lori offer $550,000 for 25%. Mark says he'll be more accessible since he lives in Texas and Lori takes offense to accusations of inaccessibility. The guys counter with $550,000 for 20%; both Lori and Mark say no. They counter again with $550,000 for 20% plus a $100 per unit royalty. Mark and Lori accept, but Mark cautions them on a royalty deal. He offers them a choice between his original offer and the royalty deal. They decide to go with Mark for $550,000 for 25%.
 Life Lift Systems Shark Tank Update
The Shark Tank Blog constantly provides updates and follow-ups about entrepreneurs who have appeared on the Shark Tank TV show. The deal with Mark closed and the company is listed on his website. Since airing, Life Lift added 19 distributors with more in the wings. They also added a tornado safe room called the Safe Shield which installs in a garage.
Famous weather personality Aaron Tuttle is now a spokesperson and they claim they are making installs every day. As of June, 2021 they rebranded the company to Vortex Vaults. They have a new Project Station Shelter for a shed or garage. When it's not used as a shelter, it's a work bench. As of April, 2023, they're doing $4 million in annual revenue.