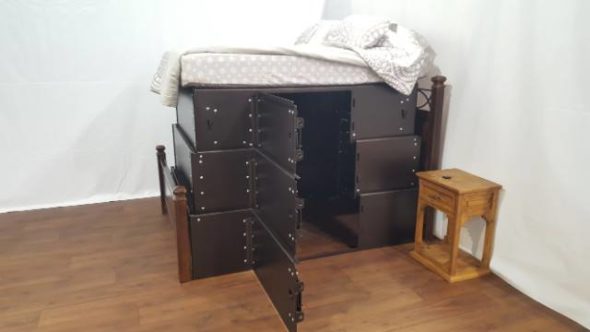 Life Lift Vortex Bed inventors Levi Wilson and Tim Todd think  hiding under the bed isn't a good idea, unless it's one of their beds. It may be OK to hide under the bed when playing hide and seek, but if there's a major storm or a burglar, it won't keep you safe. That's why they created the Life Lift Vortex bed, so hiding under the bed is safe.
Levi is from Oklahoma, smack dab in the middle of tornado alley. Every year, tornadoes destroy property and kill people. If you have a tornado shelter built into your home, at least you can protect life and limb. If you don't, you probably pray a lot. Wilson came up with the idea while making aircraft parts in his machine shop. When he met Mr. Todd, owner of a big welding company, he shared his vision and Life Lift Systems was born.
The Vortex bed looks like a regular bed, but it has a secret. When jacked up, it's a 57 inch high, bullet proof tornado shelter. Wheel chairs will even fit into it. The bed is tested to withstand weights of up to 60,000 pounds, so flying debris in a tornado won't hurt you. It's rated to withstand winds up to category five hurricanes and tornadoes. It even works as a safe room in the event of a home invasion.
The structure bolts to a concrete floor. You can trick it out with a safe, gun rack, lighting, USB port with batteries and more. They aren't in production yet, but they will cost between $4,000-$6,000 when they are, depending on options. They likely want a Shark's help creating awareness and with marketing. Will the Sharks be blown away by this invention?
My Take on the Life Lift Vortex Bed
A little over a year ago, we lived through hurricane Irma. We didn't get hit full on, but it was a terrifying night nonetheless. We are far enough from shore and high enough that storm surge wasn't a concern in our area, so we stayed put. Conventional wisdom says "hide from wind, run from water," when a hurricane is coming. The Life Lift Vortex lets you hide from wind.
I am probably not a customer since we have a pretty hurricane safe house (when it comes to wind). Water is another story if there's storm surge, but this product wouldn't help with that. If I lived in Oklahoma, I'd want some sort of shelter. One downfall is you have to bolt it to the floor. If you ever want to rearrange your bedroom, you're out of luck.
Will Sharks Give Some Shelter and Invest
I think the Sharks will be suitably interested and entertained by this pitch, but I don't see any investments coming. We'll likely hear "it's too early," or "it's too niche," or other such objections. I think this is a good product that serves a real need, and I think the Sharks will echo that sentiment, I just don't think it's "investable" right now.