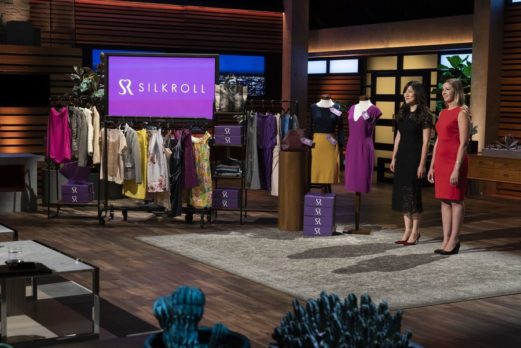 Janet Wu and Erin Wold roll into the Tank with SilkRoll, their digital clothing exchange platform for women, in episode 1014. The women set out to solve a problem. Roughly 75% of clothing in a typical woman's closet gets worn once. Then it sits in the closet for years taking up space. They estimate there is over $900 Billion in unused clothing in American closets. The women had an idea how to fix it: SilkRoll.
All you need to do is request a box and fill it with unwanted, quality clothing. The clothing earns you points based on a fair dollar value for each item. With your points, you shop for clothing on the site and those items are shipped to you. There are thousands (if not tens of thousands) of items on their website.
The women started their business with $104,773 in funding on the crowdfunding site Republic in early 2018. The two originally met at a friend's BBQ and began discussing the futility of buying high fashion. That BBQ netted them their photographer and web designer too.
Essentially, they're creating a digital currency to trade clothing. Their points (called Q's) represent a dollar value. Members pay a membership fee to join – this is recommended if you use the service a lot. Non members may shop too, but they pay a 7% service fee over and above their purchase price. To date, SilkRoll processed well over $1 million in transactions. They likely want a Shark to add a few zeroes to that number.
SilkRoll Company Information
Video

Posts about SilkRoll on Shark Tank Blog
Silk Roll Online Clothing Exchange
SilkRoll Shark Tank Recap
Janet and Erin enter seeking $250,000 for 3% of their business. As they explain their revenue model, a 5% transaction fee plus the sale of points for anywhere from twenty five to fifty five cents, the Sharks grow annoyed. They're even more annoyed when they discover the business only has $35,000 in total revenue.
When the Sharks start questioning the ladies, they offer a bunch of buzz word explanations which causes more annoyance. The ladies explain they are a "very special business" since they've done $2.3 million in transactions. Barbara is the first to go out due to the poor revenue. Mark hates the buzzwords and he's next out. Robert doesn't get the concept; he's out. Kevin and Lori go out next citing the high valuation. Kevin says he should bill the women for his time since they wasted it.
SilkRoll Shark Tank Update
The Shark Tank Blog constantly provides updates and follow-ups about entrepreneurs who have appeared on the Shark Tank TV show. As of the first rebroadcast on ABC in June, 2019, the company is still in business and is plugging along. They now allow people to buy clothes with cash as well. As of August, 2023, the company is still in business and has lifetime sales of $20 million.