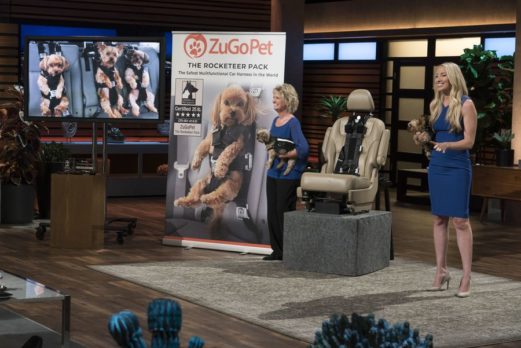 Carolyn Shewfelt and Juls Bindi hope to lock in a deal for Zugo Pet, their line of safety harnesses and carriers for dogs traveling in cars, in Shark Tank episode 1011. The product is essentially a safety belt for small dogs up to 25 pounds). They also sell airline carry-on bags for small dogs, collars, treats and a variety of other accessories.
Picture a harness-like safety belt for a dog. When in the ZugoPet "Rocketeer" harness, the dogs actually "sit" upright while safely strapped into a seatbelt mechanism. The patented product is supposedly the safest dog car harness on the market for small dogs. Currently, they don't make a large dog harness.
Bindi first introduced Zugo Pet in an early 2015 IndieGoGo campaign that raised $14,449. Later that year, she raised another $11,440 on Kickstarter. Those two crowdfunding campaigns were for the "Jetsetter" airline carrier type bags. The harness system came along several months later when Shewfelt approached Bindi about her "Rocketeer" product. Shewfelt was in an accident with her dogs and was working on the patented harness system,
The two women partnered up and began marketing both products under the ZugoPet moniker. Veterinarians have certified the safety of the Rocketeer harnesses for small dogs. Some animal rights groups don't like it, but small dog owners love it. The two women hope a Shark can harness some cash and mentorship and throw a deal their way in the Tank.
Zugo Pet Company Information
Video

Posts about Zugo Pet on Shark Tank Blog
ZugoPet – Car Seats For Small Dogs
 Zugo Pet Shark Tank Recap
Carolyn and Juls enter seeking $100,000 for 10% of Zugo Pet. When the Sharks see the dogs in the harness, they can't stop laughing. Unfortunately for Carolyn and Juls, the laughs did not turn into an investment.
Zugo Pet Shark Tank Update
The Shark Tank Blog constantly provides updates and follow-ups about entrepreneurs who have appeared on the Shark Tank TV show. The company is still in business with a revamped website as of May 2018. As of November, 2021, they are still in business with $3 million in annual revenue.