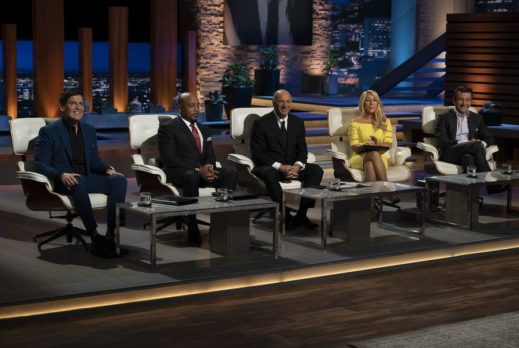 It's a "classic" Shark Tank tonight as no guest Sharks appear. "Regulars" Mark, Daymond, Kevin, Lori and Robert evaluate 4 new businesses seeking a Shark's cash and guidance to grow their businesses.
Noel Durity wants to groom a Shark to invest in Twist It Up, a comb that looks like a tennis racquet marketed to African-American men. Zahra Kassam educates the Sharks about MontiKids, her Montessori curriculum based toy subscription service that offers developmentally appropriate, educational toys. Brice Baillie gives the Sharks a taste of Obvious Wines, his wines that "don't require a PhD to buy." Juls Bindi and Carolyn Shewfelt want to secure a deal for Zugo Pet, their "seatbelts" and safe carrying bags for small dogs, Which new business partners with a Shark tonight?
In season nine, Ondrea Siniari and Marques Fernandez partnered with Barbara Corcoran on a $300,000 investment for 20% of The Dough Bar. Their business makes protein bars disguised as doughnuts and Rice Krispy Treats! Sales went through the roof after their appearance and tonight we'll get a glimpse of their success, just one year shy of their initial appearance.
There are 28 Shark Tank Episodes for Season 10. This season features more appearances by "guest Sharks," including billionaire Jamie Siminoff. The 200th episode also airs this season. Casting is currently closed, but it never hurts to get a head start on season ten! If you would like to appear on the show, check out our Auditions and Casting information.
Episode 1012 – The Shark Investors and Entrepreneurs
The Shark Tank Episode 1006 entrepreneurs will make their best pitch to the panel of five Shark investors who will use their own money if they choose to invest. The Shark Investors negotiate on the spot without any previous information, which differs from typical negotiations between venture capital investors and entrepreneurial start-ups.
Companies pitching the Shark Investors must go through a rigorous due diligence process before an on-air deal is completed. Shark Tank Blog follow ups help you keep track of the companies that end up successful and the ones that don't complete their deal.
Thank you for reading SharkTankBlog, the number one site for Entrepreneurs, Investors and Fans. Our content updates multiple times day, giving you the latest information on Episode 1012, Season 10, and all other seasons and episodes.
Episode 1012 Press Release
Shark Tank: Episode 1011 (1/27)
AN ALL-NEW EPISODE OF ABC'S 'SHARK TANK' DEBUTS SUNDAY, JAN. 27
"1011" – First into the Tank are entrepreneurs from Austin, Texas, and Cour d'Alene, Idaho, who pitch their safety product that specializes in confidently helping people travel with their pets; an entrepreneur from Venice Beach, California, introduces his collection of curated wines with straight-forward labels for a snob-free client; an entrepreneur from North Hollywood, California, presents his twist on an urban centric hair product to help amplify natural curls; last into the Tank is an entrepreneur from Oakland, California, who provides a subscription service that delivers Montessori Method-approved toys to families with young children, on "Shark Tank," SUNDAY, JAN. 27 (9:00-10:01 p.m. EST), on The ABC Television Network, streaming and on demand.
In a "Shark Tank" update, Ondrea Siniari and Marquez Fernandez from Redwood City, California, give investor Barbara Corcoran an update on The Dough Bar, their protein-packed doughnut treats.
The Sharks in this episode are Mark Cuban, Kevin O'Leary, Lori Greiner, Robert Herjavec and Daymond John.