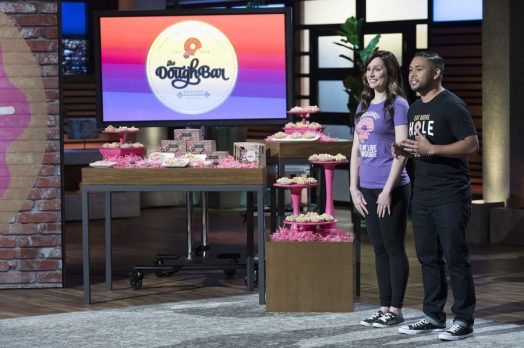 Ondrea Siniari and Marques Fernandez, a husband and wife team from California, want the Sharks to sink their teeth into The Dough Bar, their line of protein bars disguised as doughnuts.  Their doughnuts eliminate most of the bad stuff found in regular doughnuts. Instead of frying them, they're made from yeast-based dough with wheat and malted barley flour. Each doughnut has 11 grams of protein.
The couple believe in staying active and eating right, but they still like occasional "cheat treats." This led them to create The Dough Bar. They list all their nutritional information on their website, so you know exactly what you're getting before you buy. For their glazed doughnuts, they ship the glazing in a separate package so you have a choice.
They're branching out with other sweet treats,too. They launched their protein crisp bars with a successful  Kickstarter campaign that raised $20,887 back in the fall of 2016. These treats are a protein bar that tastes like Rice Krispy treats! The couple believes in eating healthy and giving back to the community. Each month, they donate a portion of their sales to local organizations that fight childhood obesity and promote healthy lifestyles.
A four-pack of doughnuts costs $15. They have everything from plain doughnuts to fancy concoctions like Oreo Crumble to seasonal offerings. They also offer a variety pack of 12 doughnuts for $39. All the online reviews say The Dough Bar doughnuts are delicious. The couple likely wants a Shark to help build their wholesale business. Will a Shark bite on these doughnuts and invest?
The Dough Bar Company Information
Video

Posts about The Dough Bar on Shark Tank Blog
The Dough Bar Shark Tank Recap
Ondrea and Marques enter seeking a $300,000 investment for a 15% share in their business. Marques explains he is a professional bodybuilder but he asks the Sharks what he'd look like if he ate doughnuts every day. After explaining the product, they hand out samples. The Sharks appear to like them.
Robert asks about calories and he finds out the glazed doughnuts have 200 while the plain have 150. Lori comments that it's somewhere between a doughnut and a bagel. They also tell Lori the product stays fresh in the fridge for 3-4 days. Robert then asks about pricing. Ondrea tells him a box of four is $15.50 with shipping costs of $6-$9. They have about a 53% margin. Total sale from June, 2015 – January, 2018 are $1.2 million. They're predicting $1 million in sales for 2018. The Sharks are impressed.
Robert wants to know what they'll use the $300K for. Marques wants to increase their marketing spending and extend the shelf life of the product to 3-4 weeks instead of days. Barbara asks the percentage of repeat customers; the answer is 31%. After sharing their two other products – a gluten-free cake and a protein crispy bar, the offers start flying.
Barbara offers $300K for 30%. Lori jumps in and offers $300K for 20%. Mark and Robert go out, then Alex offers $00K for 30% if Lori will team up with him. Marques asks if Barbara and Lori will team up for $400K for 30%. Barbara cautions against working with two Sharks as one Shark can "move quicker." She drops to $300K for 25%. After a brief discussion, Marques asks if Barbara will go to 20%. Barbara agrees, just to beat Alex and Lori. Everyone hugs and Ondrea and Marques leave with big smiles.
RESULT: DEAL with Barbara for $300K for 20%
The Dough Bar Shark Tank Update
The Shark Tank Blog constantly provides updates and follow-ups about entrepreneurs who have appeared on the Shark Tank TV show. After appearing, sales predictably went up. They've since introduced their Rice Krispy Treats and added new doughnut flavors: Savory Nacho Cheese, S'mores, Oreo Cheesecake.
The products are available all over the USA in nutrition stores, gyms and smoothie bars. The company gets an update segment in episode 1011 in season ten. In the update segment, they reveal they've moved to Colorado where they opened a manufacturing facility and plan on opening two brick and mortar stores.
Later in October, 2019, about ten months after the update segment, the company filed for Chapter 11 Bankruptcy. In June, 2020, they opened the two planned retail locations.  As of 2021, they handled their financial issues and have four retail bakery locations in the greater Denver area. They also offer co-packing at their manufacturing facility. The retail locations do about $1 million in annual revenue and they do another $1 million in online sales. They are thinking of opening 5-8 retail locations in another state – possibly California – in 2022.
Unfortunately, in May, 2022, the company announced on its Facebook page they would "close the doors to The Dough Bar as we know it."