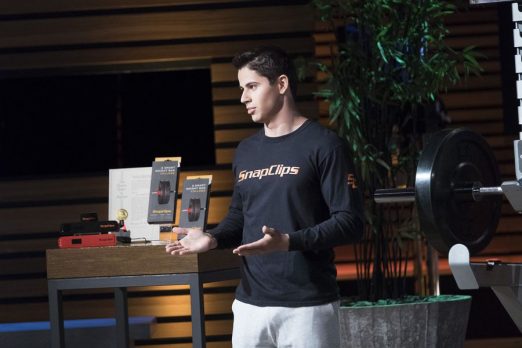 Martin Dimitrov hopes the Sharks invest in SnapClips, his easy to use weight collars, in Shark Tank episode 918. Dimitrov came up with the idea while he was a senior in high school. He wanted a weight collar (the thing that keeps free weights on the bar bell while lifting) that was lightweight, easy to use and strong. The first prototypes were made out of slap wrist bands.
In the spring of his senior year, he launched a successful Kickstarter campaign that raised $23,040.  This amounted to about 600 orders. After graduating in 2016, he started attending the University of Illinois in Chicago where he's pursuing a business degree in entrepreneurial studies. This didn't stop him from continuing to develop the product. He continuously reached out to cross-fit athletes, power lifters and others to refine and perfect his design.
Snap Clips snap around the end of a bar bell like a slap bracelet. Once the clip is around the bar, simply tighten it with the velcro strip. Each clip is made from military grade Kevlar and reinforced with a high strength rubber/fabric blend. In 2017, Martin received patents for SnapClips and started shipping them all over the world. They come in black or orange and cost $29.99 for two. Lifters can bring their own to the gym to speed up their workouts, but Martin wants to sell them to gyms, too.
Will a Shark want to give this business a lift?
SnapClips Company Information
Video

Posts About SnapClips on Shark Tank Blog
SnapClips Shark Tank Recap
Martin enters the Shark Tank seeking $150,000 for 15% of his business. He gives his pitch, tells his story and demos the product. He also says he is looking for other applications for his product. As he hands out samples, the questions begin.
He's in college now, but he'll quit if the business takes off. He says his school will always be ready to take his money.  Each unit costs $8.50 to make and they sell for $29.99. In addition to the Kickstarter sales, he did $6500 in the one month he's been selling. Lori see the industrial applications for helping to store hose and wire could be big. She doesn't know much about weights though.
Robert says since he's not in the industrial markets yet, he's not interested; he's out. Barbara doesn't relate to the product; he's out. Lori offers $150,000 for 50%. Alex offers to come in with her at 25% each. Mark chimes in and says Martin would be foolish to take that offer. He says he'll go in with Lori and Alex at $150,000 for 30% – 10% each. Mark says he'll get the NBA teams involved with the business and Alex can get them in his gyms. Alex says he'll only do the deal if Martin stays in school. Martin agrees and they do the deal.
SnapClips Shark Tank Update
The Shark Tank Blog constantly provides updates and follow-ups about entrepreneurs who have appeared on the Shark Tank TV show. The deal with Mark, Lori and Alex closed, but they've since exited the business. Martin did a private label deal with CrossFit in 2018. By the end of 2018, he was selling in over 30 countries. As of April, 2023, the company is still in business and has over $6 million in lifetime sales.