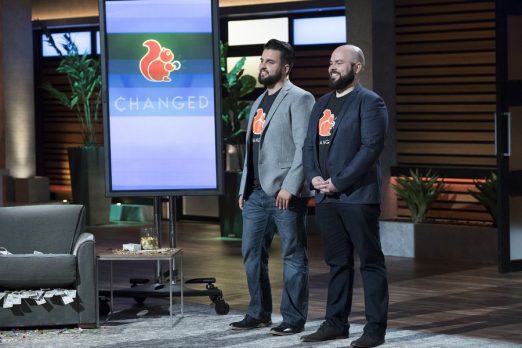 Daniel Stelmach and Nick Skrzyniarz want a Shark to help them eliminate student debt with ChangEd, their app that uses spare change from everyday purchases to pay down student loans. College students have over $1.4 trillion in student loan debt. The burden of paying it back is a financial crisis looming on the horizon. Daniel and Mick seek to help students pay their student loans faster.
The brothers started the business in August, 2016. Nick has a degree in entrepreneurial studies from the University of Illinois at Chicago and Daniel has a degree in small business and business management from DeVry University. Daniel talked to Nick about the idea for ChangEd when he didn't see his student loan debt going down fast enough, even though he made regular monthly payments.
All users have to do is link their bank account and student loan account to the ChangEd app. It also works with bank debit cards and bank issued credit cards. To date, they have roughly 80% of the nation's banks online. When you pay  with the app, it rounds up to the nearest dollar amount and puts it in your ChangEd account. For example, if you buy a cup of coffee for $2.10, you pay for the coffee and ninety cents goes into your account. Once it hits a hundred bucks, ChangEd pays off some of the principal on your student loan.
The guys estimate an average user can save between $30-$50 a month. Over the course of a student loan, those payments can save over $10,000 in interest! ChangEd charges a one dollar fee per month for their service. They likely want a Shark to help them with cash for growth and with establishing more credit card and banking relationships. Will a Shark invest to help students save?
ChangEd Company Information
Video

Posts about ChangEd on Shark Tank Blog
App for Paying Down Student Loans
ChangEd Shark Tank Recap
Daniel and Nick enter seeking $250,000 for 15% of their business. They tell the Sharks their story and how the app works. Once done, the questions start flying. They have about 9000 downloads with about 1000 active users. To date, they've helped pay off $25,000 in debt and hope to be at $100,000 by the end of the year. They have relationships with over 90% of student loan providers. They make their money by charging a $1 monthly fee.
Barbara has concerns about the banking relationships and thinks a bank could do the same thing; she's out. Alex quickly follows. Robert questions their valuation but offers $250,000 for 48%.  Lori drops out citing the valuation. Mark offers $250,000 for 25% and the guys accept.
ChangEd Shark Tank Update
The Shark Tank Blog constantly provides updates and follow-ups about entrepreneurs who have appeared on the Shark Tank TV show. The deal with Mark did close. In the aftermath of the original air date, they gained tens of thousands of new users. They also introduced a "Friends and Family" feature that lets others contribute to your student debt with the app.
In May, 2019 Mark funded a convertible note for the company in the amount of $200,000. In September, 2020, MetLife Digital Accelerator powered by Techstars funded another $200,000. By 2021, they've helped students pay off over $10 million in debt. Annual revenues as of April, 2023 are $6 million and they are managing more than $2 billion in student loans.