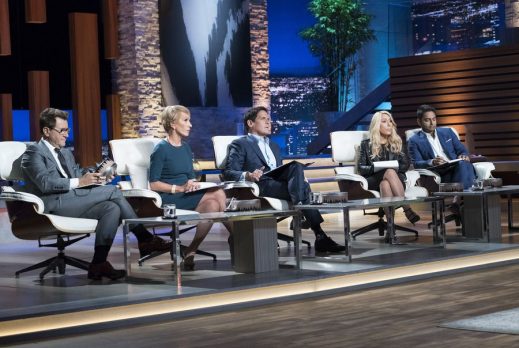 Rohan Oza returns once again as a "guest Shark" in episode 920. He joins Robert, Barbara, Mark and Lori in evaluating four new businesses seeking an investment from the savvy Sharks.
Scott Sorensen, CEO of Gunnar Optiks, shows the Sharks how his company's eye glasses help reduce digital eye strain. Dr. Catlin Powers harnesses the power of the sun when she pitches One Earth Designs, her company that makes solar cooking devices. Francesco Brachetti wants to feed the Sharks avocados when he introduces his Avocaderia, a restaurant that serves dishes made from avocados. Brothers Jake, Jordan and Jim DeCicco pitch Super Coffee, a coffee based, healthy protein energy drink.
Which business leaves the Tank with a Shark?
Back in season six, Josh and Sara Margulis accepted a $400,000 investment from Kevin O'Leary for  for one-third of their transactional revenue until he gets three times his money back. He made the wedding crowdfunding platform a cornerstone business in his "something wonderful platform" which features wedding related companies. Tonight, we'll see their progress.
There are 28 Shark Tank Episodes for Season 9. This season features more appearances by "guest Sharks," including billionaire Sir Richard Branson. The 200th episode also airs this season. Casting is currently closed, but it never hurts to get a head start on season ten! If you would like to appear on the show, check out our Auditions and Casting information.
Episode 920 – The Shark Investors and Entrepreneurs
The Shark Tank Episode 920 entrepreneurs will make their best pitch to the panel of five Shark investors who will use their own money if they choose to invest. The Shark Investors negotiate on the spot without any previous information, which differs from typical negotiations between venture capital investors and entrepreneurial start-ups.
Companies pitching the Shark Investors must go through a rigorous due diligence process before an on-air deal is completed. Shark Tank Blog follow ups help you keep track of the companies that end up successful and the ones that don't complete their deal.
Thank you for reading SharkTankBlog, the number one site for Entrepreneurs, Investors and Fans. Our content updates multiple times day, giving you the latest information on Episode 920, Season 9, and all other seasons and episodes.
Episode 920 Press Release
Shark Tank: Episode 920 (2/11)
January 23, 2018
BRAND GURU ROHAN OZA JOINS THE 'TANK,' ON ABC'S 'SHARK TANK,'
SUNDAY, FEBRUARY 11
"Episode 920" – An entrepreneur from San Clemente, California, familiarizes the Sharks with his eyewear design engineered to eliminate digital eyestrain and block harmful rays; an entrepreneur from New York City introduces the world to the first avocado bar that serves healthy fast food; an entrepreneur from Burlingame, California, shows the sharks that they can cook anywhere under the sun with her portable solar invention; a trio of brothers from Arlington, Virginia, present their all-natural super beverage, on "Shark Tank," SUNDAY, FEB. 11 (10:00-11:00 p.m. EST), on The ABC Television Network, streaming and on demand.
In a "Shark Tank" update, husband and wife Josh and Sara Margulis from Sebastopol, California, update their investor, Kevin O'Leary, on Honeyfund, their unique wedding gift registry where couples can raise funds toward their dream honeymoon.
The Sharks in this episode are Barbara Corcoran, Robert Herjavec, Mark Cuban, Lori Greiner and Rohan Oza.