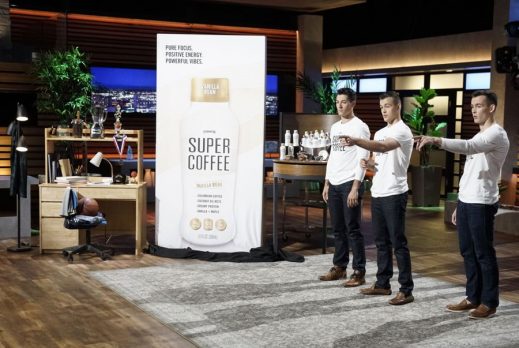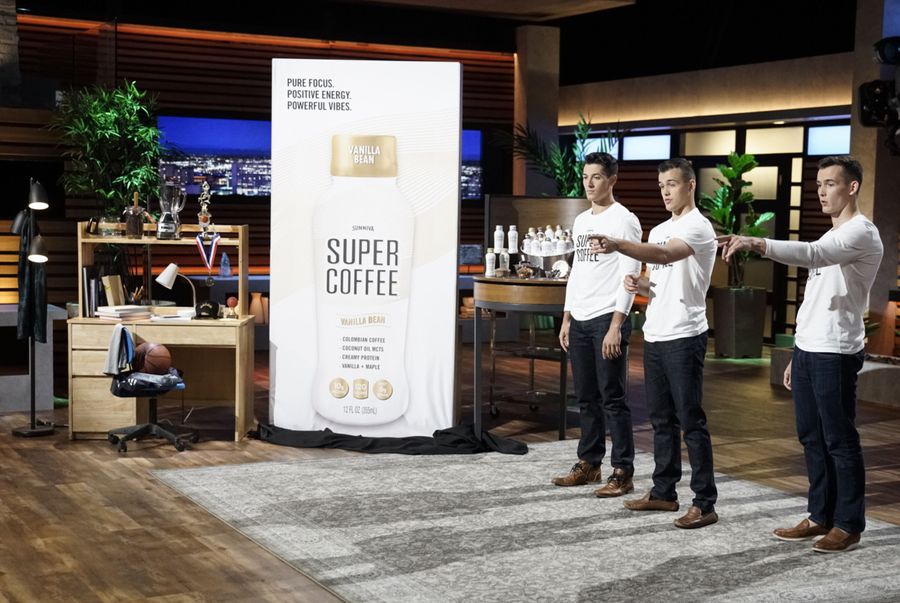 Jake, Jordan and Jim DeCicco want to energize the Sharks with their Super Coffee, an organic energy drink, in Shark Tank episode 920. Jordan started the business out of his dorm room at Philadelphia University in 2015. He wanted a wholesome, organic energy boost and he didn't like the sugary drinks sold at the student union. He started mixing organic coffee, milk protein and coconut oil in his blender and in a few weeks his energy level was noticeably higher.
Friends wanted in on this new energy drink, so he began selling it straight from his dorm room. In the summer of 2015, he enlisted the help of his older brothers and they started bottling it. They managed to get on the shelves at around 20 Whole Foods in the Northern Virginia/Baltimore area. At first, it was a refrigerated product, but now they have a non-refrigerated version which gives them better distribution. Now, you can find Super Coffee at hundreds of locations in the Northeast.
Each bottle of Super Coffee has, in addition to caffeine,10 grams of protein and 4 grams of MCT oil from coconuts. There are four flavors: vanilla, cinnamon, mocha and black. A bottle will set you back $3-$4. The brothers are taking their family history of healthy eating (and drinking) to the growing bottled coffee market. They've raised some seed capital to get started, but likely need a Shark's help with mass production and branding. Will a Shark like this coffee?
Super Coffee Company Information
Video

Posts about Super Coffee on Shark Tank Blog
Super Coffee Shark Tank Recap
Jake, Jordan and Jim enter the Shark Tank seeking $500,000 for 4.5% of their business which elicits laughter from the Sharks. They give their pitch and hand out samples. Lori thinks it's strong and Rohan comments on the Stevia-like after taste. Robert doesn't like the taste either and goes out. Year to date (2017) sales are $600,000 and they project finishing the year at $2.1 million. Each bottle costs $1.05, wholesales for $1.85 and retails for $3.29. Their biggest competitor, Starbucks, sells for $2.99.
Barbara doesn't like the aftertaste and she goes out. Lori goes out next, citing the high valuation. Mark is next for the same reason. Rohan doesn't think they're raising enough money and he has issues with the taste too; he's out.
Super Coffee Shark Tank Update
The Shark Tank Blog constantly provides updates and follow-ups about entrepreneurs who have appeared on the Shark Tank TV show. This is one that got away from the Sharks. Later in 2018, they rebranded the company name to Kitu Life as a mash up of 'key to life' and keto. That same year, as a direct result of their Shark Tank appearance, Patrick Schwarzenegger(Arnold's son) invested in the business. In 2019, they introduced creamers and raised $25 million from venture capitalists, including Aaron Rogers' Rx3 Ventures, to fuel growth. Also in 2019, the three brothers made the Forbes 30 under 30  list.
In 2020, they had $55 million in sales. The same year, former NBA star and early investor in Vitamin Water, Baron Davis invested in the business; so did A-Rod and J-Lo. By 2021, they hired Rosanna Godden, former finance vice president at Whole Foods Market, as its chief financial officer. Sales in 2021 are projected at $97 million and the company is valued at $400 million.
In late 2020, they inked a distribution partnership with Anheuser-Busch. This allowed them to get their product in to Walmart, CVS, Walgreens, Target and thousands of convenience stores. In August, 2021, the company raised another $106 million at a $500 million valuation. The company's products are currently available in only 40% of U.S. retail outlets, but that still makes them the third-largest manufacturer of bottled coffee in the USA behind Starbucks and Dunkin. The Anheuser-Busch deal will likely catapult them to the top soon. As of April, 2022, they expect sales to top $100 million for the year.
In May, 2022, the company announced that rapper Vanilla Ice would be a spokesperson for its new Vanilla Iced Latte flavor. As of August, 2022, it was revealed 2021 revenue topped $97 million and the company is mulling an IPO to expand globally. In February, 2023, the 2022 revenue numbers came in at $124 million.