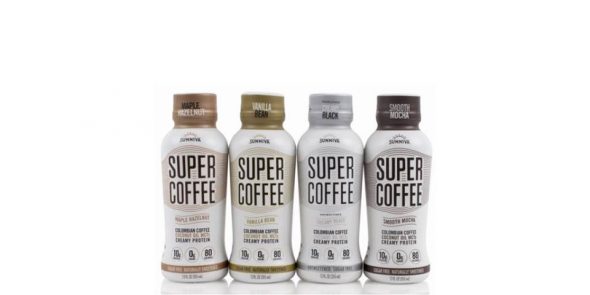 Jordan DeCicco started making what became Sunniva Super Coffee in his dorm room at Philadelphia University. He didn't like sugary energy drinks, so he whipped up a coffee based energy drink with milk solids and coconut oil. What he got was an energy boost AND a business. His fellow students like his concoction and started buying it from him. He'd whip up a few batches in a blender and sell it right out of his dorm room.
When he approached his older brothers about making a "real" business out of his Super Coffee, they leapt at the idea and Sunniva was born. The brothers got to work quickly; they got the product into 21 Washington DC area Whole Foods Markets in the summer of 2015. By 2016, the product was all over the northeastern USA in Whole Foods, convenience stores and on many college campuses.
Sunniva Super Coffee was the result of three health conscious brothers working hard to get their vision going. All three boys are/were college athletes whose mother stressed healthy eating while they were very young. They translated their passion and the "need" for an alternative energy drink into a real business. A Shark can help them blow their brand up, but will a Shark drink this coffee in episode 920?
My Take on Sunniva Super Coffee
My first issue I have is with the name Sunniva which means "gift of the sun" in old English. That's great, but it's also the name of a HUGE medical cannabis company. I'm not sure branding an energy drink with the same name as a medical cannabis company is the best idea even thought there's probably a lot of cross-over consumers amongst the college crowd.
I am not someone to spend $3 or more on an energy drink. For a fraction of that cost, I can brew a pot of my favorite energy drink: coffee. I like my coffee hot or iced and I have tons of Tervis Tumblers to carry it along with me. I never could understand why people spend so much on energy drinks. That said, man people do, that's why it's a $3 billion market. If their product catches on, they could make big bucks, but not from me.
Will Sharks Feel the Energy?
Once again, Rohan Oza's presence is in the Shark Tank. These are the types of products in his wheelhouse. I bet the producers wanted him so they could put more food brands on the show and have intelligent discussions about them. Whatever you think of Sunniva Super Coffee or any of the other food/beverage products from season nine, they're much more slickly packaged than in seasons past and Oza has a lot to do with that. He may or may not invest, but this business is there for him to have legit talking points about businesses he knows.
I think their only hope is Oza. Mark and Lori know the hassles of the food business and starting from scratch might be a problem. Barbara has food products in her portfolio too, but she's sometimes more willing to take a risk. In the video promo, Robert clearly says he doesn't like the taste, so he's an obvious "out." If Rohan or Barbara aren't in, Sunniva is out.