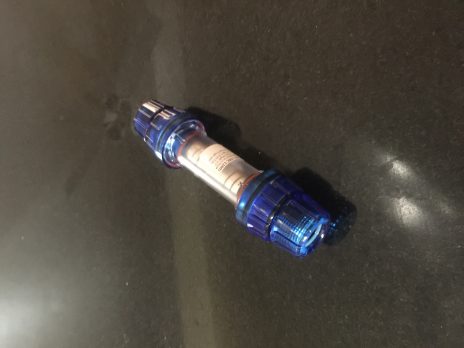 I talked to Mark Melni not too long ago to get a Melni Connectors update. Since making a deal with Mark Cuban in season 6, there hasn't been a lot of news in Shark Tank circles about this deal. It wasn't a typical Shark Tank deal, in fact, Mark knew nothing about the business of electrical connectors at all, he invested because of "FOMO" or Fear Of Missing Out.
Melni, who carries one of his connectors in his pocket every day, is animated and excited about his company the day we spoke. "I never heard the term FOMO before we went on Shark Tank," Melni explains." For whatever reason, Cuban knew Mr. Melni was on to something big. That's why he invested $500,000 for 12% of the business – with an option to buy additional shares.
Mark Melni has nothing but praise for Cuban. "His involvement's been phenomenal. Sometimes it's hard to understand how he responds to us and his other entrepreneurs so quickly. He does it all himself and I can't for the life of me comprehend how he does it."
Melni Connectors Update on the Deal
Mr. Melni likes Cuban's input, but he also likes his cash. "When the company's value reached $15 million," says Melni, "Mark invested an additional $1 million." Cuban isn't the only new investor. Electrical connector distributor Remke also invested in Melni Connectors. The Chicago-based company gives Melni 30 plus sales agents in the field who'll sell to wholesale electric supply distributors across the USA. Melni recently shipped their first order.
"It's been a long time since I had my AHA moment," he explains. Mark worked with his dad at a charter bus company in Santa Barbara where he was exposed to "all things mechanical." That's where he first envisioned the Melni Connector. "I was visualizing copper wire twisting around a drill bit. It was interwoven like a Chinese finger trap – the more you pull, the tighter it gets.
What's Next?
The reason it took three years to get from the Shark Tank to real distribution is Melni's attention to detail. His connectors have 7 US and international patents and getting those squared away takes time – and money. The company also wanted an Underwriters Lab (UL) listing which takes time. "Our initial sales are 100% to electricians. We want to concentrate on selling to the professional electrician in the commercial market. Right now, we aren't selling into the consumer market, but some day I'd like to see my connectors next to the big spools of wire at the Home Depot and other stores."
Mr. Melni has reasonable expectations for his new product launch. "When these come in to market, a lot of products won't be necessary," he explains. "Crimping tools are expensive. We are a disruptor in this industry and we have a revolutionary product, but it's a tough nut to crack. I think huge companies that make crimping equipment will work against us in background." Melni didn't stop at electrical connectors. He signed a deal to develop irrigation connectors for Irrigation Components International. He also hinted that a large cable company was interested in purchasing Melni Connectors.
Clearly, Mark enjoyed his Shark Tank experience. He called it "surreal" because the producers came looking for him. "it was a bizarre process," he says, "but our producer gave s lots of tips. I wouldn't trade the experience for anything." He still likes to play piano too; his album is on Youtube if you'd like to give it a listen.
Advice for Entrepreneurs
Mark had this to say to aspiring entrepreneurs: "Follow your bliss. You need to figure out what makes you happiest and when you do its rewarding. Find what it is and immerse yourself in it. When I started Melni Connectors, many said it would never work, but I kept at it and look where we are now."
I had one other question for Mark. He answers that over at the Hot Dog Truck.