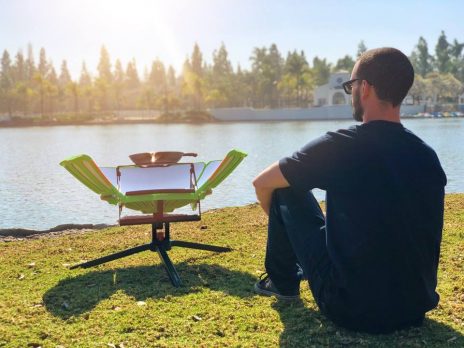 Dr. Catlin Powers wants to change the world with SolSource, a solar-powered cooker made by One Earth Designs. Powers is a social justice warrior at heart who designed her first solar cookers for rural Tibetan villagers. A SolSource uses passive solar energy to provide heat for cooking without any carbon footprint (except maybe the char on your burger).
The SolSource looks like a microwave dish lined with mirrors. The reflective material focuses the sun's rays on a cooking platform suspended in the middle of the dish. You can place a grill attachment on the platform or a fry pan. On a sunny day, you're ready to cook a burger in ten minutes or less. The company raised over $460,000 in three crowdfunding campaigns, so apparently people want this product.
With a SolSource, you never have to worry about firewood or charcoal. The only drawback is the sun needs to be out. Powers holds two patents for the product. She hopes it will serve a dual purpose. For the rural poor in underdeveloped countries, sometimes the only option for cooking is cutting down trees. With a SolSource, that's not necessary. The product would also come in handy in natural disasters. Some people in my community were without power for two weeks after Irma hit. Cooking was problematic unless you had propane (which was in short supply).
For the American weekend warrior, there are other positives. Most beaches and State and National Parks don't allow grills or fires. If you want to camp, it's cold sandwiches for meals, not burgers or steaks. Since a SolSource doesn't combust, it's OK to cook with it in those places. While the mission of One Earth Designs is to bring "clean energy solutions to the developing world," they still want to sell solar cookers. A Shark can help put this product where it needs to be, the question is will a Shark want to cook up a deal?
My Take on SolSource
I think the idea of cooking with solar power is cool. I've done it with eggs on a stainless steel sheet before, but I never did a full on meal. There are dozens of passive solar cookers on the market and many more plans for building your own on the internet. Most of the manufactured solar cookers are in the $200-$400 range which puts the SolSource (at $239) in the lower end of the range.
Powers' product is by far the most elegant. It looks sleek and modern compared to the metal box design of some solar cookers. I'd like one for the beach. We spend a lot of time at the beach. While there are grills available, they're out away from the water. With this product, we could grill some hot dogs right at our beach blanket. I am in.
Will Sharks Go Solar?
Dr. Powers is a very smart woman; the Sharks will like that as long as she's not too smart for her own good. Clearly the product works and there is demand, but what makes a deal? In the video promo for this episode, it looks like Mark spars with Powers, but they intentionally mislead people in those promos. Mark's investment in Power Practical, the makers of the Power Pot, shows he has an interest in sustainable energy.
Power Pot uses boiling water to charge electronics. The way they pitched it, you boiled the water on a campfire. Combine a Power Pot with a SolSource and you also have a portable electric generator! Whether Mark makes that leap or not remains to be seen, but there is a synergy between the two companies. Other than Mark, Robert is the only other Shark who might bid. Dr. Powers hopes the video promos are as misleading as I think they are.