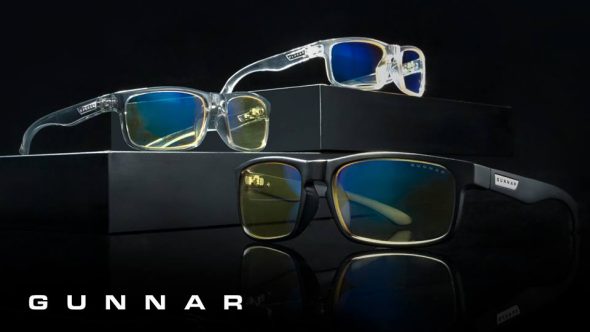 Gunnar Glasses founder Joe Croft is on a crusade to eliminate digital eye strain. He also wants to sell a lot of glasses. Americans are spending at least two hours in front of a screen every day. Many spend much more than that. 70% of those people say they suffer from digital eye strain. Gunnar Glasses help cure the problem. 96% of their users say wearing their glasses reduced their eye strain.
The secret is in the patented lens design. Their unique shape keeps more moisture in the eyeballs while the shape, tint and coating reduces glare while filtering harmful blue light. Anyone who spends a lot of time in front of a computer, whether for work or gaming, probably needs a pair of these glasses. At least that's what Croft says.
The company's been around since 2006. It was co-founded by Croft and Jennifer Michelsen. The business grew and had international distribution by 2011. Now, they offer multiple styles for gamers, computer geeks and others. They offer prescription lenses and sun glasses, to. Clearly the company wants to increase its brand awareness. Will a Shark see the light and invest in episode 920?
My Take on Gunnar Glasses
I log a lot of screen time as a blogger. I'm in front of the computer for four hours a day, plus I use a cell phone and watch a little TV at night. There are days when I experience digital eye strain. I sometimes work in my sun glasses! I never knew there was such a product.
I'd love a pair of these. Overall, I'm what you'd call "thrifty," but when it comes to my eyes, I spend. I wear Maui Jim sun glasses because I want my eyes protected out in the sun. You only get one set of eyeballs and I personally want them well protected. Prices for Gunnar Glasses start at a relatively modest $49 and go up to $100. Their most expensive pair is HALF what I paid for my Maui Jims. I am in.
Will Sharks Like These Shades?
One this Gunnar Glasses has is sales. Big sales. I expect a high dollar/low equity ask from the company. The Sharks won't fight about the quality of the product, but they'll have two objections.
The first is the equity and valuation. Whenever that's an issue, there's sure to be chatter from the Sharks. The other objection is more difficult to overcome: making claims. Lori in particular is shy about any product that makes a claim without research to back it up. A thumbs up from "96% of customers" isn't enough for her. She'll go out first. If Gunnar Glasses doesn't have research behind its claims, the other Sharks will follow.