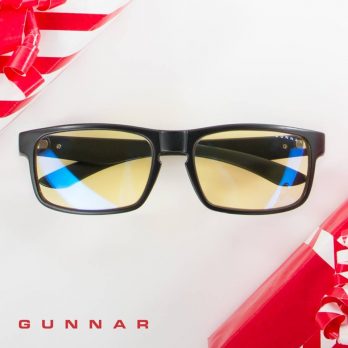 Joe Croft hopes the Sharks have vision when he pitched Gunnar, a line of eye glasses designed to eliminate digital eye strain, in Shark Tank episode 920. "Digital Eye Strain (computer vision syndrome) is similar to carpal tunnel syndrome and other repetitive motion injuries you might get at work. It happens because your eyes follow the same path over and over. And it can get worse the longer you continue the movement." Gunnar glasses help reduce digital eye strain by drastically reducing the blue light spectrum emitted by electronic devices.
Blue light is what computers, phones, tablets and other electronic devices emit. This kind of light is the most harmful to eyes because is causes damage to the retina, can lead to cataracts, and is linked to sleep disorders. There are dozens of studies backing up the harmful effects of blue light and Gunnar seeks to educate as much as it wants to sell glasses.
The glasses have a patented amber lens that filters out the harmful blue light. They're available with prescription and non-prescription lenses. People who spend a lot of time in front of a computer can feel immediate benefits from reducing digital eye strain with Gunnar glasses. Children, who are more vulnerable to the harmful effects of blue light, should wear the glasses while gaming, too.
A pair of Gunnars will set you back anywhere from $45 to $90 – more for prescription lenses. The company accepts most major vision plans. They sell "regular" sun glasses, too. They've been in business since 2006 and have solid sales, so they may want a Shark to fuel growth.
Will a Shark see the wisdom of this investment?
Gunnar Company Information
Video

Posts about Gunnar on Shark Tank Blog
Glasses Reduce Digital Eye Strain
Gunnar Shark Tank Recap
Joe enters the Shark Tank seeking $750,000 for 5% of his business. Joe has a visual, video pitch. A man seated at a computer screen gets sand blasted in his eyes and punched by his computer. He's then fried by a bright light, then a giant crate – a la Wile E. Coyote – falls on him. He finishes his pitch, then hands out samples to the Sharks who all put them on and test them with their phones.
2016 sales were $6.5 million; 2017 sales are projected at $7.5 million. They operate on 60% margins and each pair of glasses goes for $60-$80. They only made $500,000 in profits last year (2016) because they are plowing their profits into marketing and sponsoring eSports. The eSports sponsorships are helping their entry into gaming eyewear. They have a patent and intellectual property which they successfully defended in court on numerous occasions.
Joe reveals he owns 20% of the company. The rest is spread out amongst other investors who've contributed $9 million in investment capital. They also have about $1.2 million in debt. Joe is looking for the $750,000 to do some more marketing.
Barbara says when someone owns 20% of the company, he's not an entrepreneur, but an employee with an incentive; she's the first Shark out. Robert says none of his employees has ever asked for these type of glasses, plus the $9 million in investments scares him; he's out. Mark thinks Joe isn't sure how to get to the next level; he's out. Rohan says his gut is telling him not to do the deal; he's out. Lori offers $375,000 as an investment and $375,000 as a loan at 8% interest for 8% equity. After some back and forth, they agree to a $750,000 loan at 8% for 8% equity.
Gunnar Shark Tank Update
The Shark Tank Blog constantly provides updates and follow-ups about entrepreneurs who have appeared on the Shark Tank TV show. Apparently, the other investors didn't like this deal because it never closed. The company continues to sponsor eSports events and frequently announces new products and partnerships on its press release page. As of February, 2023, the company is still in business and has annual revenue north of $8 million.