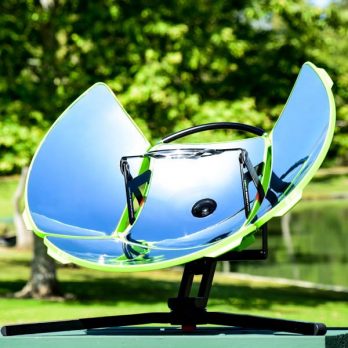 Dr. Catlin Powers hopes to cook up a deal for One Earth Designs, her company that makes solar cooking stoves, in Shark Tank episode 920. Powers holds two patents for her products and, in addition to the SolSource – her solar stove – she's working on passive storage of solar energy. She started the "business" as more of a philanthropic gesture. She delivered 6000 solar ovens to remote Tibetan villages to give the people a clean and green alternative to cooking with fuel.
In 2013, she decided to take One Earth Designs to the Kickstarter community to when she raised $142,413 to fund a production run for SolSource Stoves. She brought the SolSource back to Kickstarter in 2017 and raised another $155,373. Not to be outdone, she raised an additional $166,393 on IndieGoGo in another 2017 campaign.
A SolSource looks a lot like a satellite dish. Its reflective surface focusses heat from the sun at a small reversible pot stand suspended in the middle of the dish. On a sunny day, it gets hot enough to grill a burger in just ten minutes. She markets a large "classic" version for $500 and a smaller, more portable "sport" model for $300. Both models accommodate grilling, sautéing or frying. The reflective surfaces stay cool to the touch, resist scratching and are 100% recyclable.
One Earth Designs sees multiple uses for its products. It can bring clean, efficient cooking to remote areas – reducing the need for deforestation as a fuel source. A SolSource is perfect for natural disasters when there may be no power for days. It boils water for purification, too. You can also use a SolSource in places where grills are not allowed (many beaches and national parks) to cook up a few burgers. Powers hopes she can cook up a deal with a Shark.
One Earth Designs Company Information
Video

Posts about One Earth Designs on Shark Tank Blog
One Earth Designs Shark Tank Recap
Catlin enters seeking $500,000 for 3% of her business. She shows her product and gives her pitch. Robert wants to know how long it takes to heat up: 5 times faster than a charcoal grill. You can moderate the heat by manipulating the panels. The regular models cost $249 and the Sport model is $499. The operate on 80% margins and sell online. They have a total of $1.3 million in sales to date and expect $500,000 by the end of the year (2017).
Lori thinks the BBQ market is a hard one and she's the first Shark out. Robert is next. Barbara doesn't like the valuation; she's out. Rohan wishes she had better technology; he's out. Mark asks Catlin if she can "put fear into Elon Musk." When she says yes, he offers $500,000 for 5%. She counters with 4% and a board seat and Mark agrees.
One Earth Designs Shark Tank Update
The Shark Tank Blog constantly provides updates and follow-ups about entrepreneurs who have appeared on the Shark Tank TV show. The deal with Mark never closed, which ought to make Mark happy. The company shut its doors at the end of 2019. This message was posted on their Facebook page:
Dear Customers and Partners,

One Earth Public Benefit Corporation (doing business as One Earth Designs and seller of SolSource Solar Cookers) will cease operations as of January 1, 2020. Our non-profit branch will continue to carry out our global social impact mission through humanitarian projects and the continuing evolution of solar-thermal technologies alongside our partners worldwide.

We want to express our sincere gratitude to the customers, partners, and supporters who have taken this journey with us from our humble origins in the Himalayas to delivering solar energy for cooking to families in more than 70 countries around the world.

Those of you who are SolSource users continue to make a difference every time you choose solar energy over fossil fuels. To support your commitment to renewable energy, we are offering customers up to 6-months of continuing customer service from January 1, 2020 to June 30, 2020 while replacement parts last (shipping at customer's expense). No refunds or returns will be processed following cessation of trading. You can continue to reach customer service at [email protected] or +866-218-8980 through June 2020.

To protect our customers, we will delete all contact information after Dec 31, 2019 except that necessary to maintain customer service support. We will delete customer service records on July 1, 2020.

We want to thank you for being part of this journey with us.

Sincerely,

The One Earth Team