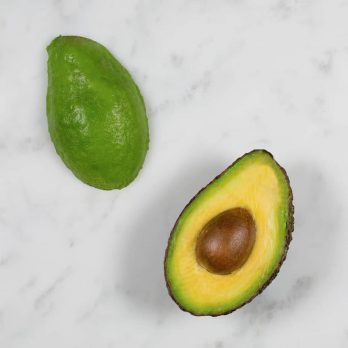 Alessandro Biggi wants funds to grow Avocaderia, his avocado themed restaurant, in Shark Tank episode 920. Biggi opened the business in early 2017 with his cousin, chef Alberto Gramigni, his friend, Francesco Brachetti and his brother Filippo. They operate the avocado "bar" in a food hall that's a converted warehouse that offers space for events and businesses in Brooklyn's Sunset Park neighborhood.
They make all kinds of goodies from salads to smoothies to sandwiches. Every menu item at the Avocaderia uses avocados imported from Michoacán, Mexico. They go through about 250-300 avocados per day. Since opening, the place is packed every weekday from 9AM to 4 PM and every weekend from 11 AM to 5 PM. The number one seller is the Avoburger: smoked salmon, herb yogurt, watermelon radish, and arugula sandwiched between two avocado halves.
The business parlayed the men's love of avocados (Biggi never tasted them as a child growing up in Italy) with savvy use of Instagram. Their over 50,000 followers like pictures of avocados as much as the fruit itself. Part of the reason for the success of Avocaderia is the fruit itself. Also called "alligator pears," the avocado is a super-food packed with vitamins, potassium, antioxidants, monounsaturated fatty acids, fiber, and so much more. According to Healthline, avocados "improve heart disease risk factors like Total, LDL and HDL cholesterol, as well as blood triglycerides." There's even some limited research that says they can prevent cancer and arthritis.
With so many health benefits, and the fact that avocados are tasty, it's no wonder the Avocaderia is enjoying great success. They likely want to expand out of their stall in the old warehouse and perhaps open more locations. They likely need a Shark's cash for expansion. Do Sharks like avocados?
Avocaderia Company Information
Video

Posts about Avocaderia on Shark Tank Blog
World's First Avocado Themed Restaurant
Avocaderia Shark Tank Recap
Alessandro enters seeking $300,000 for 10% of his business. He tells the Sharks his story and pitches his business. Next come the samples and the Sharks love them. He's only been open for 8 months and is doing $2250 a day – for a total of $75,000. He sank $70,000 into the business to get it started. He wants the Shark money to open a second location in Chelsea. His plan is to open 20 locations in the next five years. He estimates it will cost $200,000 per location.
He says he'll use growth sales to open new businesses. The estimate is the new location will generate revenue of $750,000. When Robert questions the $3 million valuation, he says they're already profitable, they've had many requests to franchise and they're writing a cook book.
Lori says she likes what they're doing, but she's not a big avocado fan, so she's the first Shark out. Robert loves he concept, but he can't get to the $3 million valuation; he's out. Rohan likes the food, but not the fact that everything is avocado based; he's out. Barbara says she loves the concept and offers to go in with Mark at $300,000 for 25%. He counters with $300,000 for 15% and Mark says he won't get out of bed for that. The next counter is $400,00 for 20% and Mark and Barbara agree.
Avocaderia Shark Tank Update
The Shark Tank Blog constantly provides updates and follow-ups about entrepreneurs who have appeared on the Shark Tank TV show. Mark and Barbara never closed on the deal and Biggi opened his second location in May, 2018 –  about three months after the original air date. Despite one of the locations getting temporarily shut down by the health department due to a sewage leak in 2019, they did big sales out of the two locations – over $1 million. When Covid-19 hit, it quashed their short term growth plans.
He was lucky to be able to open for a few days during New York City's stringent lock down guidelines thanks to Operation Feed Brooklyn. This organization paid Brooklyn restaurants to provide food for frontline healthcare workers. As of June, 2021, they are open again – NYC restaurants fully reopened on May 17, 2021. Expansion plans should proceed as planned. A third location was added once the lockdowns lifted. As of February, 2022, they're doing $3 million in annual revenue.
By February, 2023, they have four locations – all in New York City. Annual revenue per store is a little over $1 million.