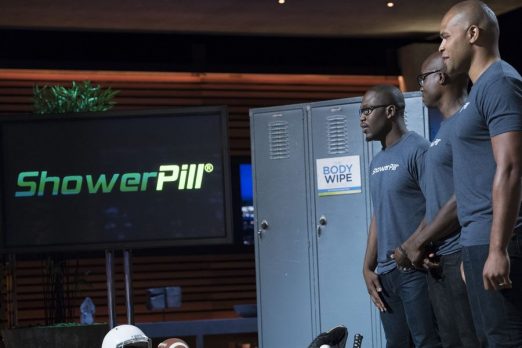 Wendell Hunter, Wale Forrester and Justin Forsett pitch Shower Pill, their body wipes for when you need a shower but don't have the time, in Shark Tank episode 918. The three men are former UC Berkeley football team-mates and no strangers to working up a sweat. They got the name for their product from an old joke they told while playing football. If a team-mate left the locker room without showering, they'd say "he must have taken a shower pill." While at Berkeley, the guys often found themselves without the time to shower. It was a stinky situation, but they also contacted a few sweat related infections.
After graduating, Hunter played for the Buffalo Bills before becoming an ER Technician. Forrester became a firefighter. Forsett played 9 years in the NFL as running back with the Seahawks, Colts, Texans, Ravens, Jaguars, Lions and Broncos; he retired in 2017.
After settling in to life, the guys brainstormed their idea and "after a boatload of research & development," they tested their prototype on some of their pro athlete friends. They quickly realized their market was bigger. Everyone from soccer moms to the weekend warrior had the same "in between shower issues."
The Shower Pill is about the size of a washcloth. It's extra thick and has anti bacterial properties to fight against bacteria and fungus such as Staph infections, MRSA, Ringworm, Common Cold and more. Its aloe vera base softens skin as it cleans and it smells good too. They promise it'll leave your "skin feeling clean, fresh and moisturized…like you just stepped out of the shower." A ten pack of individually wrapped Shower Pills is $9.99; The Bucket of 250 wipes is $199.99.
The guys likely want a Shark's help getting into mass retail. Will a Shark come clean and invest?
Shower Pill Company Information
Video

Posts about Shower Pill on Shark Tank Blog
Shower Pill Shark Tank Recap
Wendell, Wale and Justin enter the Shark Tank seeking $300,000 for 10% of their business. They tell their backstory and give their pitch, then they hand out samples. Wale tells Lori they did hypoallergenic testing and PH level testing. Each wipe costs 14 cents and they sell for 99 cents: a ten pack is $9.99. Last year (2016) they had $300,000 in sales, this year (2017) they will have $600,000 and they're projecting $2 million in 2018. Gross margins are 60% and they're plowing all profits back into the business. When they get into the details of their finances, they start giving conflicting answers, confusing themselves and the Sharks.
Mark says they don't know their numbers and he goes out. Robert says they have talent, but they aren't executing. "Execution trumps talent," say Robert and he goes out. Barbara goes out, citing their confusion about their numbers. A-Rod says they should hire a CFO, then he goes out. Lori sounds like she's going to make an offer, but ultimately goes out.
Shower Pill Shark Tank Update
The Shark Tank Blog constantly provides updates and follow-ups about entrepreneurs who have appeared on the Shark Tank TV show. The company did $15,000 in sales in the 48 hours following their original air date.  The company rebranded itself as Hustle Clean. They got other investments from NFL players Steve Smith, Jonathan Stewart, Prince Amukamara, Cliff Avril and Ronnie Lott. They did over $1 million in sales in 2019. Their products are available in Target and on Amazon.
The company developed a couple of philanthropic ventures as well. They have a scholarship program that provides sports scholarships that give opportunities for underserved youth to play sports. They also travel to areas affected by natural disasters to hand out their products to people without access to showers. The Body Wipes now come in three scents: unscented, fresh and lavender. They also introduced a face wipe with "charcoal powder formulation, soothing aloe vera and cucumber." Hustle Clean found new markets for their products: campers, "weekend warriors" and people in post surgical situations that can't take showers or baths. As of August, 2022, the company is open and doing $4 million in annual revenue.