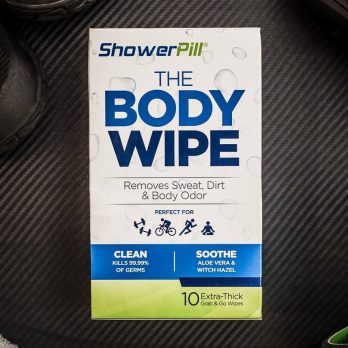 ShowerPill creators Wendell Hunter, Wale Forrester and Justin Forsett know about sweat. They're all former UC football stars, Hunter and Forsett also played in the NFL. It's safe to say, they're familiar with the need for a shower after working out.
While in college, they were so busy, they sometimes didn't have time to shower between classes. Whenever someone left the locker room without showering, the joke was they took a "shower pill."  Their product got its name from that joke. When they realized a lot more people needed a "shower on the go," they started their business.
The Shower Pill is like a large baby wipe – but don't compare it to a baby wipe (the guys don't like that). It's much larger and thicker than a baby wipe and, unlike many baby wipes, contains no alcohol, parabens or sulfates. ShowerPill body wipes contain vitamin E, witch hazel and aloe.
These guys are serious about business, but they believe in giving back. When Flint had its water crisis, they were there handing out wipes. They also handed out wipes to folks affected by hurricanes Harvey and Irma. In Puerto Rico, they gave out over 20,000 body wipes to hurricane Maria victims. They claim "we know body wipes can't change the world, but we also know that giving someone the dignity of a shower substitute (when a shower isn't accessible) goes a long way."
They hope their pitch in the Shark Tank goes a long way when they introduce their business in episode 918.
My Take on The ShowerPill
These guys are marketing a product that already exists to a different audience. The ShowerPill is a lot like the post surgery towelettes hospitals give you after an operation. Like Shower Pill, they're bigger and thicker and they have no alcohol. What Hunter, Forrester and Forsett did is take that product and started marketing it to a new audience. There are plenty of times people feel the need to shower up but don't have the time, and that's what they're selling. They have a good story and that's why it works for them.
Their wipes cost about the same as the post surgery wipes, too. I had a bunch of extra wipes after my hernia surgery a few years back. I used them to "shower" several times. In fact, there are still some in our bathroom cabinet and I still carry one in my back pack. I used one last year in Tampa. It was hotter than hell and I worked up a good sweat walking two blocks from the parking lot to where my daughter was playing in a volleyball tournament. I went to the men's room and took a shower with my wipe.
When I run out of my current supply, I would probably pick up some Shower Pills because living in Florida is often a sweaty proposition. I am in.
Will the Sharks Swallow this Pill?
The Sharks will see this for what it is. Mark Cuban invested in Dude Wipes, sanitary wipes for men, back in season seven. Like the ShowerPill, the dudes simply re-branded an existing product. They've done well, too, so Mark will "get it" when the former footballers do their pitch. Because of a potential conflict, Mark won't bid.
Any of the other Sharks could bid though. This is purely a branding proposition and who better to help brand a company than one of the Sharks? They already have celebrity endorsers because of their NFL connections. Adding a Shark to the mix could blow up sales.
I'm betting A-Rod does a deal. He did a deal with the Gronkowski brothers earlier in the season. He must have some sort of football envy going on! He'd make a good partner though. With A-Rod and all the pro football players endorsing the product, it would go a long way toward building the brand.