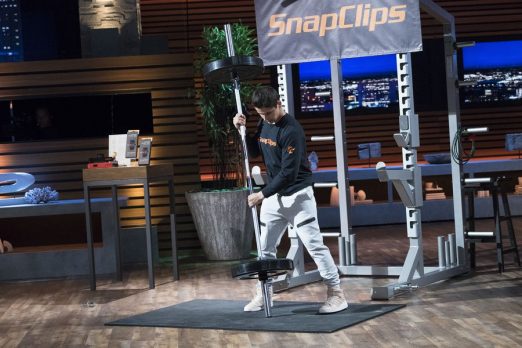 Snap Clips inventor Martin Dimitrov is a young entrepreneur who likes to lift weights. He's so young that when he started a Kickstarter campaign to launch his product, he had to have someone else set it up due to age restrictions on the site! He came up with the idea for his next generation weight collars while brainstorming in his junior year of high school. They wanted an easy, safe way to hold weights in place on a bar bell. So Martin and his friends went out and got some snap bracelets and started making prototypes. Snap Clips are the resulting product.
What's a weight collar you ask? It's that doo-hickey that holds weights in place on a bar bell. Standard weight collars are a metal ring with a screw that holds the ring and weights in place. The problem is, they often slip. This is dangerous and Dimitrov's product solves the problem. Snap Clips snap around the bar bell bar and hold in place with velcro. If you're familiar with snap bracelets, that's the concept.
Dimitrov, now a sophomore at the University of Illinois in Chicago, raised just over $23,000 to get the first run produced. Now Snap Clips sell on Amazon. Dimitrov wants to "change the way you lift weights," and he's off to a good start. It wasn't all easy. In his first pitch competition at DePaul University in Chicago, he finished in last place. The next competition, at District 214 Start-Up Showcase, he finished first. He hopes a Shark gives him the same treatment in episode 918.
My Take on Snap Clips
I see the need for these and I give kudos to the kid for putting it all together. When I lift weights, I use the machines, but I see the other folks lifting in the free weight area. One regular at my local YMCA where I work out actually has his own set of Snap Clips. I noticed him when I was researching the company,, so I went over and asked him about them.
He got them as a gift for Christmas from his wife and he uses them every time he lifts. When he demonstrated how strong they are, just like Dimitrov is doing in the above photo, I was impressed. He likes them because our YMCA has "old school" collars and he's experienced slippage in the past.
Since I'm not a free-weight user, I probably won't be a buyer, but it's a solid product that solves a real problem and works as advertised. I'm in.
Will Sharks Weigh In and Invest?
It would be easy to dismiss Snap Clips as a "product, not a business." Mark probably utters that line during the segment, but he'll still give young Martin his props. Barbara and Lori won't bid, but Robert and A-Rod might.
A-Rod wants to make an impact in the Tank and he'd be a good partner for young Martin. He has major investments in a variety of fitness businesses. He could be his own customer if he invests. Robert also invested in a niche fitness product, The Natural Grip, back in season six. Snap Clips could leverage the many gym contacts he's developed with that business. While I'm not sure Martin gets a deal, if he does it's with A-Rod or Robert.