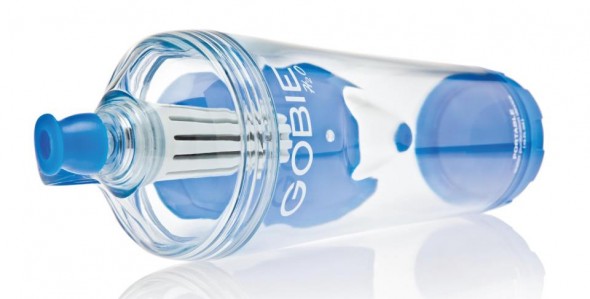 Gobie H2O isn't the first water bottle to appear on Shark Tank, but it's the first filtered water bottle the Sharks will have the opportunity to sink their teeth into. Entrepreneur, designer, and inventor Rusty Allen pitches Gobie H2O to the panel of investors in episode 426. Gobie H2O is former industrial designer Allen's answer to the over 50 MILLION plastic water bottles discarded every day in the USA. He figured putting a quality filtered water bottle into consumers' hands could help bring down the volume of plastic trash generated by water bottles. Using his skills as a designer, he created a re-usable water bottle from the highest grade, BPA-free plastic. The patented Gobie H2O has a flexible diaphragm so you can squeeze water through the filter, it has an extra-large cap for easy filling and cleaning, and the mouth piece is ergonomically shaped to fit the human mouth. The Gobie H2O sells for $29.95 and replacement filters – which filter 100 gallons of water – cost $10. Using a Gobie H2O in place of bottled water can save hundreds of dollars.
Gobie H2O Shark Tank Recap
When Rusty Allen comes into the Shark Tank in episode 420, he's looking for a $300,000 investment, in return for 10% equity in his company, Gobie H2O. He gives a brief demonstration of his design, which includes an option for an upgraded filter which filters out 99.99% of contaminants, using potting soil to show that the filter is capable of clearing even the most dirty water and making it suitable for drinking.
Kevin O'Leary asks whether Allen is aiming to break into the casual-user market in the US, or if he's going for the niche of providing clean water in areas where none is available. Robert Herjavec agrees that the cost of offering a filter in America, where clean water is readily available nearly everywhere, is prohibitive.
Lori Greiner points out that she's seen "multiple products" with a filter system identical to the Gobie H2O bottle. The only difference she notes in Allen's product is the squeezable soft side.
Allen explains that the flexible side on the bottle allows more pressure to build up inside the bottle, and claims that the design improves the filtration ability. Daymond John calls the water bottle "really sexy" and wants to know about costs. The bottles sell for $30, and cost $10 to make. Total sales have been $285,000 over 17 months.
Who's In?
Lori Greiner likes that he's "trying to do something unique," but feels there's "a ton of competition out there." She's out.
Kevin O'Leary questions the valuation of the company. Allen tries to give a sales pitch, explaining that everyone drinks water. Mark Cuban and Kevin O'Leary cut him off. O'Leary tells him he should've talked about his sales plans. He's out.
Mark Cuban tells Allen "You're trying to be in the water filtration business." He tells Allen "you're selling the wrong thing," and he's out.
Robert Herjavec believes "you don't understand the business you're in." He's out.
Daymond John wants to know what he wants the money for. Allen explains he needs the money for production. John makes an offer: $300,000 for 40% of the company, on the contingency that they get into a big box store.
Allen asks to make a call to his business advisor. After a consultation, Allen asks if John would be willing to bring in Mark Cuban and Lori Greiner into the deal. John refuses, sticking to his offer.
Allen accepts, and hooks himself a Shark deal with Daymond John.
Gobie H2O Shark Tank Update
Gobie H2O is still selling strong, and is still blue. Daymond John tweeted soon after the show: "FYI Rusty from Gobie H20 has been great 2work with & a team player. I found a winner!"
It appears their partnership has been mutually agreeable. Gobie H2O water bottles are available from the website, and other online retailers like Amazon.com. When Allen went swimming in the Shark Tank, he hoped to hook up with several Sharks. While his fishing expedition landed only one in his deal, it seems that Daymond John made a good investment in Gobie H2O.
As of August, 2021, the Gobie website is dark and social media hasn't been updated since November, 2020. The product is also "currently unavailable" on Amazon. Allen's LinkedIn profile says it's still open, but he started another business called Happi Canine, which sells fish oil enriched CBD supplements for dogs. As of March, 2023, this status remains unchanged.
Posts About Gobie H2O on Shark Tank Blog
Company Information