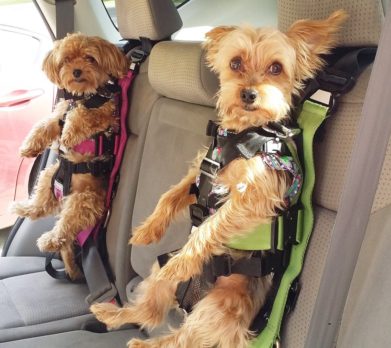 Carolyn Shewfelt and Juls Bindi, partners in ZugoPet, were drawn into business together out of their love for dogs. Bindi is a life-long animal lover who volunteers at many different animal shelters while balancing her career as a physical therapist to Hollywood stars and now, entrepreneur. Shewfelt was a dog lover living in Idaho who developed a car harness for dogs after being in an accident with her terriers. She had the prototypes and patent, but her invention was sitting in her closet.
When Bindi did a Kickstarter for her doggie travel bag in 2015, Shewfelt took notice. Bindi was talking about dog safety with her product and that prompted Shewfelt to call her up. They decided they should partner up and sell both products under the ZugoPet name. Both of their products needed further development, so they got to work. By mid 2017, their products were ready for launch. The darling of the two is The Rocketeer, a car seat harness/backpack for dogs less than 25 pounds.
They patented the products and crash tested them. When they published a video of the Rocketeer crash tests on Pet Insider, the video went viral and had over three million views in 15 minutes. It has over 100 million views now. The viral video caught the eye of someone on the Shark Tank production team and they were asked to audition. Their segment airs in episode 1011.
What Is A Dog Car Seat?
The Rocketeer by ZugoPet is only for small dogs. It looks like a baby carrier that straps into a harness attached to a car seat. It's more seat belt than car seat and, when the ride is over, the dog keeps part of the Rocketeer on as a harness collar. The dogs are suspended in an upright position which has been deemed safe by The Center for Pet Safety. The same group gives it the highest marks as a safety harness, too.
My Take on ZugoPet
I always had dogs. My current best friend is Zoey, a seventy pound American Bulldog. She is a sweetheart, though at times she's just pure, joyful mayhem. I never had a dog under 50 pounds, I don't dislike small dogs, but I think a big dog is more fun (that sentiment may change as I age). Obviously Zoey isn't a customer for ZugoPet, which is too bad. Most of the "safety harnesses" sold for big dogs are just glorified harness collars that clip to a seatbelt. Zugopet looks better than a seatbelt for humans.
I do feel bad for the dogs. They look a little ridiculous hanging there. I could only imagine what a big dog would look like. While the product is certified by The Center for Pet Safety, there are detractors. A humane society in New Zealand doesn't think ZugoPet  puts animals in the best posture, but pretty much everyone else loves the product. I suppose, when it comes to safety, our dogs deserve as much protection as us humans.
Will The Sharks Invest or Show Restraint?
Pet products are always a tough sell in the Tank. Mark will want nothing to do with it – he doesn't like the industry at all. Lori is a cat person, so she's not likely to invest. Kevin may throw out a flier for entertainment value, but I doubt he's all the way in.
Daymond invested in some pet businesses in the past with mixed results. If the numbers work for him, he has the connections in the pet trade to make it work. Robert is always a wild card if dogs are involves since he's a dog lover. Even ZugoPet is selling and shipping product, they're still a young business, which could hurt them. I think they're on the show based on the viral video, not necessarily the strength of the business. Unless their numbers blow the Sharks out of the water, I don't think they get a deal.