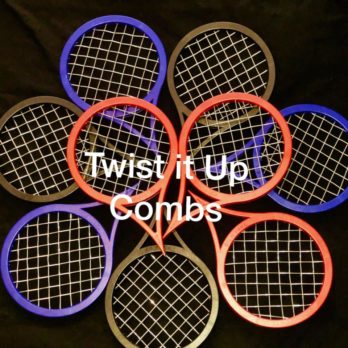 Twist it Up Comb inventor Noel Durity had to hit rock bottom before becoming a successful entrepreneur. At age 22, he dropped out of college and moved back in with his mom, penniless. He made it his goal to save $100,000 and he did it in just two and a half years. Since he didn't want to work menial jobs all his life, he embarked on a career in Real Estate.
It was during his years as a real estate he started dressing a little sharper and he wanted to look good. That includes his hair. For black men, traditional combs don't work. Their hair grows straight up, so they have unique styling needs. Noel wanted a "corporate friendly" look, so dreadlocks, cornrows and braids were out. He started using a "curl sponge" to give his hair a groomed, natural look. Unfortunately, curls sponges need constant replacement and that gets into some money.
One day, he happened on a YouTube video that showed a guy curling and combing his hair with a tennis racquet. He tried it, and it worked. Since tennis racquets were too bulky, he traveled with a racquetball racquet. When he lost his racquetball racquet on a trip to Brazil, he returned home with a mission to make a more portable version.
The Twist it Up Comb is Born
Picture a mini tennis racquet that fits in a pants pocket and you can see the Twist it Up Comb. In 2015, Durity started figuring out what to do the first prototypes in 2015 and by November, 2016 he had some made. He started testing the market and believed he had a winner. By 2017, he had the comb trademarked and patented.
Now, he sells the plastic and stainless steel "combs" for twenty-five bucks each. They fit in your pocket and style hair that's up to four inches long from the roots up. He envisions his product as a "modern-day Afro pick."
Since he started the business, he wanted to get on Shark Tank. He went to a live audition in Las Vegas in 2017 and never heard back. Undaunted, he went to another live call a few months later. One of the production assistants owned his product and that was just the boost he needed! He appears in episode 1011 with the dream of partnering with a Shark.
My Take on the Twist it Up Comb
As a follically challenged Caucasian, this is not a product that I'd buy. The only hair care product I own is a razor! That said, I admire this kid's tenacity and work ethic. He took a bad situation and, with some hard work and ingenuity, he built a business for himself. It's the American dream and THAT'S what Shark Tank is all about. I won't be a customer, but I am all in.
Will Sharks Twist Up a Deal?
This Twist it Up Comb is new, as is the business. It's a one-off product, but people spend a lot on hair care. My daughter owns a detangling brush that costs twenty bucks; the company that makes it does millions in sales each year. Durity doesn't have millions in sales. He only has about $200,000 as of his taping date, but that's a good start.
I'm thinking Mr. Durity makes a positive impression on the Sharks. From everything I've read about him, he's a go-getter. The Sharks like that kind of entrepreneur. If he offers a reasonable valuation, I think he'll field multiple offers. I don't think Mark or Robert will bid, but the other three Sharks could.
Mr. Wonderful, also follically challenged, likes bidding on hair products because he's bald. He also likes good valuations. Look for a royalty type bid from him. Lori (Sleep Styler) and Daymond (Cut Buddy) both have hair care products in their Shark Tank portfolios. If they see a synergistic opportunity, we could see bids from them, too. I think Twist it Up Comb gets a deal, the question is: Which Shark wins?