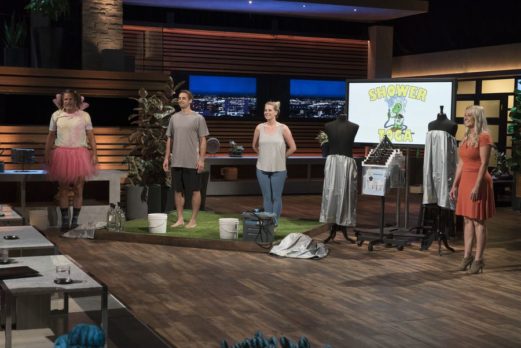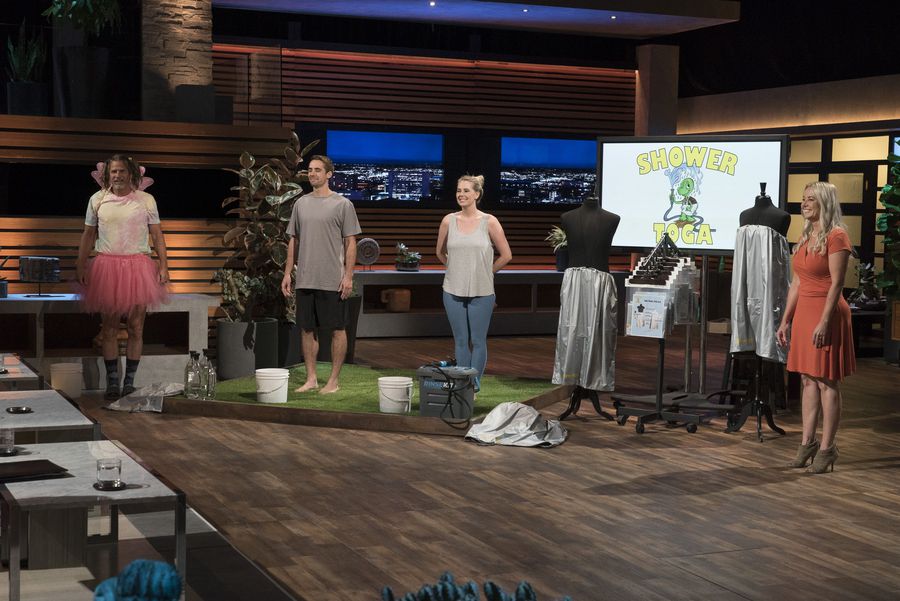 Kressa Peterson wants to clean up when she presents Shower Toga to the Sharks in Shark Tank episode 1016. Shower Toga is like a shower curtain for your body that allows you to rinse off thoroughly without bearing it all. Peterson is an active participant in outdoor races like the Mud Run and she, like everyone else, gets pretty dirty during these activities and she wanted a way to shower off discreetly.
The solution she came up with, the Shower Toga, is made from water wicking nylon fabric. It wraps around your body and cinches tight with locking cords. It's long enough to cover a woman or man's body. There are pockets for soap and shampoo and side access pockets that let you get the shower head or hose into "sensitive areas."
She got the business going with a successful Kickstarter campaign that raised $14,735. Peterson delivered the first run of products to her backers in July 2017. Since then, she's stepped up her game and partnered with The Shark Bite Half Marathon, Savage Race, The Mud Titan Run and others. People who enjoy these activities responded well and now the product is readily available on Amazon. If you want to keep clean after outdoor activities, the Shower Toga will set you back $35.
Will a Shark want to help Kressa clean up with this business?
Shower Toga Company Information
Video

Posts about Shower Toga on Shark Tank Blog
The Shower-Toga for Showering in Public
Shower Toga Shark Tank Recap
Kressa enters seeking $80,000 for 33% of her business. She made $80,000 in her first year in business and the Sharks love her margins. She retails them for $35, wholesales them for $16 and makes them for just $2.85.
Kevin says a trash bag could do the same thing, but Kressa is undeterred. She gets emotional when describing her bout with cancer and tells the Sharks she wants FEMA to use them after natural disasters. Robert and Lori like Kressa, but both feel there is a fit. Mark and Alli loved the pitch. They team up and offer $80,000 for 40% and Kressa accepts.
Shower Toga Shark Tank Update
The Shark Tank Blog constantly provides updates and follow-ups about entrepreneurs who have appeared on the Shark Tank TV show. The deal with Mark did close and the company is listed on his website. It's still for sale on Amazon and on the company website. During the 2020 Covid-19 pandemic, the company provided half price products to front line workers and first responders so they could shower up before entering their homes – lessening the chances of spreading the virus to their families.
As of March, 2023, the company is still in business and has not changed its name. Annual revenue is $250,000-$500,000 per year.