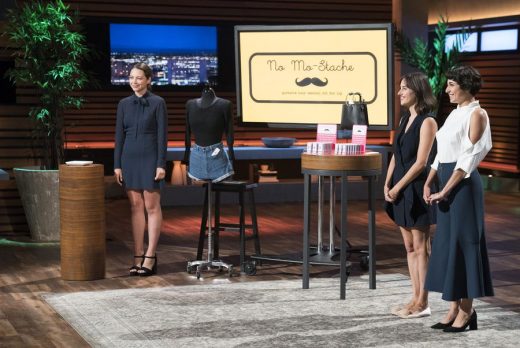 Jennifer Paschall and Gita Vasseghi pitch No Mo-Stache, their portable waxing kit for women on the go, in Shark Tank episode 905. The co-founders are no strangers to the beauty industry. Jennifer owns The Beauty Strip waxing salon in North Hollywood and Gita is a Los Angeles based Fashion Executive. They got together in 2012 and started their business.
They saw a need for a simple, safe and convenient portable waxing kit for women who want to have a wax treatment without taking a trip to the salon. No Mo-Stache (and the slightly larger No Mo-Bush) lets women quickly remove hair on the upper lip and in the bikini line area. Simply rub the wax strips between your hands, apply to the affected area and pull. It's easy and (relatively) painless.
No Mo-Stache comes in packets of 24 or 40 individual strips for $12 or $16. The No Mo-Bush strips come in packets of 16 or 32 strips for $12 or $22. Each strip comes with an aloe cream packet for post waxing relief. The products have good reviews online and are available on Amazon, the company website, and at dozens of beauty stores nationwide including the Sephora and Anthropologie chains.
Jennifer and Gita likely want a Sharks help expanding their retail presence. Will a Shark want to partner with this beauty business?
No Mo-Stache Company Information
Video

Posts about No Mo-Stache on Shark Tank Blog
No Mo Stache Portable Wax Treatment
No Mo-Stache Shark Tank Recap
Jennifer and Gita enter seeking $100,000 for 25% of their business. They begin talking about how their products are revolutionary for busy women. They have a model demonstrate how to use their product as they talk about how easy it is to use. They're different because their product is small, discreet and totally portable.
Mark asked why they didn't just shave (he was joking) and Robert professed ignorance about these kinds of products. He wanted to know if all women had facial hair issues. Bethenny, who was more familiar with this kind of product asked how No Mo-Stache was different from Sally Hansen Strips. The difference is No Mo-Stache is smaller and more discreet.
Kevin wanted to know what was proprietary about the product and if it was patented. When they said it wasn't patented, he wanted to know why they were worth $400,000. Mark wanted to know the numbers. Each unit costs $1.74 and sells for $18. They've done $200,000 in sales over two years with $300,000 projected for this year.
Negotiations
How they sell the product became a sticking point for Lori. They were selling in Sephora beauty stores, but only in 60 out of 200. They said Sephora removed the product to "make room for new trends." Lori thinks it's because it wasn't selling, but they said they were adding five new distributors this year.
While Lori was talking, Bethenny tested the strips on Mark's arm. Kevin was watching, because he threw out an offer. He bids $100,000 for 10% PLUS one dollar for every kit sold until he makes $300,000. Bethenny offers $100,000 for 40% but she'll fold the company into the Skinny Girl brand and include it in her beauty kits.
Lori thinks the kits would sell well on QVC and she and Bethenny begin chattering about different marketing ideas. Jennifer asks if the two Sharks would do $100,000 for 35%. Kevin jumps in and drops his royalty to $0.75 and when Gia and Jennifer keep asking Lori and Bethenny if they'll do a deal, he goes to $0.50. Lori (along with Bethenny) then offers $100,000  for 35%, with a $1 royalty per unit until she gets her investment back. Mr. Wonderful is losing his mind at this point and Gia and Jennifer counter Lori and Bethenny with $100,000 for 25% with a $1 royalty until they return $200,000. Lori and Bethenny say yes but "NO MO NEGOTIATING!"
No Mo-Stache Shark Tank Update
The Shark Tank Blog constantly provides updates and follow-ups about entrepreneurs who have appeared on the Shark Tank TV show. After airing, they introduced their bikini wax product: No Mo-Bush. Bethenny and Lori helped get No Mo-Stache into Anthropologie, Harvey Nichols, Virgin Megastore and Ulta. They are allegedly in negotiations with CVS for a nationwide distribution agreement.
The business gets an update segment in season ten, episode 1009. In the update, the CVS deal is sealed. As of June, 2021, the company has products in over 15,000 retail outlets and online at Amazon. As of November, 2022, annual revenues are $4 million.