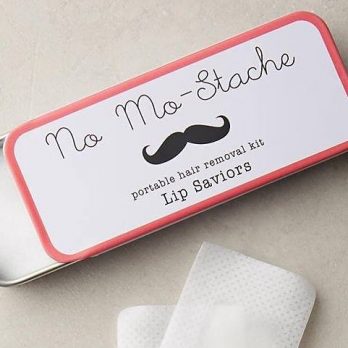 Jennifer Paschall and Gita Vasseghi tout No Mo Stache as a simple, portable solution to a hairy problem. Their product is a portable wax treatment that removes upper lip hair in the same manner as more time-consuming and expensive salon wax treatments. Their other product, No Mo Bush, removes unwanted hair from the bikini line region. They hope the Sharks see their solution to a problem as a solid business opportunity in Shark Tank episode 905.
The two women are Los Angeles area beauty and fashion professionals who teamed up in 2012 to provide women with a quick alternative for wax treatments. Typically, if a woman wanted to wax her bikini line or upper lip, she'd book an appointment at a salon. This gets expensive and many working women simply don't have the time.
That is the problem this product solves. The way they do it is with small boxes of wax packets. Simply warm the packets by rubbing them in you hands, apply the wax, wait a few minutes and YANK! The wax rips out the hair at the root, just like at the salon. Each packet has a corresponding packet of an aloe based cream to soothe the affected area. At less than 50 cents per treatment, it's very affordable.
My Take on No Mo Stache
This is obviously a product I would never use. I'm a guy and I can just shave. There are many women in my life that may be interested, but I won't speculate on individuals lest I invoke unwanted ire. Suffice to say, as a guy, I can appreciate a woman without a moustache. As for other unruly areas on a woman's body, I'll again respectfully plead the fifth.
Will the Sharks Like It?
No Mo-Stache has serious sales for a relatively unknown, niche business. The Sharks will like this, but I can't imagine any of the male Sharks getting involved in this business. With Bethenny Frankel and Lori on the panel, this product is a sure candidate for a Sharkette team bid.
The product fits Lori's profile: easily demonstrated, low price and mass appeal. Lori could make Jeniffer and Gita instant millionaires with her magic. I can see her bringing Bethenny along to help with branding, plus the bidding process has more drama when two Sharks bid. One of the male Sharks might jump in to stir things up, but I bet No Mo Stache is on QVC with Lori the day after this episode airs.