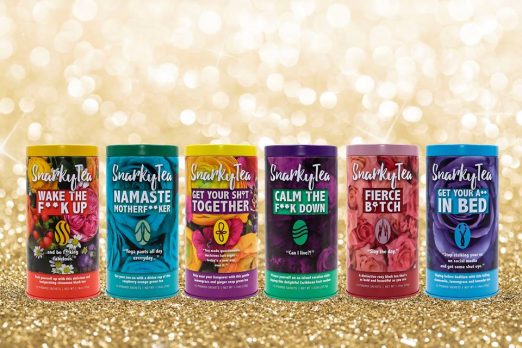 Jenni-Lyn Williams created Snarky Teas after she was inspired by her daughter to start a business. As an MBA grad from Villanova University, she certainly has the skill set. Becoming a "Chief Snark Officer" probably isn't on the minds of most MBA grads, but Jenni-Lyn has a heck of a lot of Snarkiness that she managed into creating a brand that both empowers and amuses women and men alike. She hopes the Sharks share her vision when she pitches her business in episode 905.
At the heart of it, Snarky Teas are a brand of gourmet teas designed for different moods. There's one to soothe, one to wake you up, one for relaxing in front of the TV and so on. They all have varying levels of caffeine and different flavors. The tea comes from an FDA registered importer in China and they blend and package it in Philadelphia in a USDA inspected facility.
A tin of 15 sachets of tea runs $12.99. So far. it's only available in the northeast in some specialty shops. Williams wants women to "drink your feelings," so she needs broader distribution. That's likely why the chief Snark wants to catch a Shark.
My Take on Snarky Teas
I may not be Snarky Teas target market, but I think it's funny. I was intrigued initially because Williams is originally from Nokomis, Florida – one town over from my hometown of Venice. She obviously benefitted from Sarasota county's quality schools since she ended up at Villanova!
As for the tea, I haven't tried them. One question comes to mind: how old is her daughter? Williams is still a young woman (in my book), so her daughter can't be that old. As the father of four daughters, the responsible parent in me thinks dropping F-Bombs isn't the best way to empower women. As a husband who's heard his wife banter with her friends, I know the F-Bombs get dropped. I had no idea it was so empowering.
Will the Sharks Drink the Kool Aid on this Tea?
The initial reaction will likely be like mine. The Sharks will be amused. It's a good thing Barbara isn't on the panel; even though she swears like a sailor, she waxes a bit prissy in the Tank! It's lucky Williams is swimming with Bethenny Frankel, a bit of a Snarky woman in her own right.
Sales figures are going to matter, so Williams better have decent (and growing) sales numbers. If that's the case, there could be some interest. Since the business just started in early 2016 and gaining traction in any food category is tough, the "it's too early" objection may rear its ugly head.
The best bet for Snarky Teas is if Frankel likes it. She made her bones selling a product to empower women. Skinny Girl says "It's a woman's world out there, and it's time to Drink Like a Lady." Whether Frankel feels "Wake the F@@k Up" is just as empowering is tantamount to Snarky Teas getting a deal.