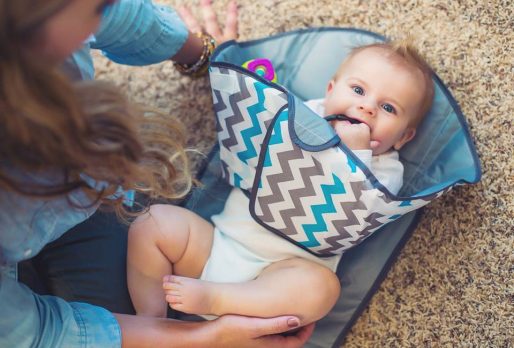 Amy and Michael Perry got so sick of wrestling their kids while changing diapers, they invented Snoofy Bee. The reason they wrestled their kids is the kids were sticking their hands in the nether regions during diaper changes and getting poop all over their hands. That necessitated a second clean up. With five kids, that amount of clean up gets old quick!
The Perrys wanted something – a product – that would solve the problem. Like most entrepreneurs, when they couldn't find one, they made their own. They enlisted "grandma" to help them sew a prototype and set up shop a few months afterwards.
The SnoofyBee is a changing pad. You take it with you on the go and you can use it at home, too. If you've ever seen a dog with a cone around its neck after surgery, you'll get the idea of Snoofy Bee. The top half of the pad is a protective cone that keeps baby's hands from getting into the diapering area. The bottom half is a regular changing pad. Mom and dad can get down to the business of changing a diaper without baby getting into his or her business.
At thirty bucks each, it's not any more expensive than many other fancy changing pads on the market. They sell on Amazon and their website. They do sell wholesale, but the bulk of the business is done online. Products like this need exposure in baby retailers and the Perrys hope a Shark will help them.
My Take on Snoofy Bee
Like the Perrys, I have 5 kids. THANK GOD they are all well out of diapers! When mine were little, it seemed like there was a never-ending assembly line on our changing table. I recall a few episodes with one of my babies messing their hands in their own poop. It was never pleasant, but it wasn't a recurring problem.
That said, an ounce of prevention is worth a pound of cure. I never actually bought baby products, they always magically appeared in our home after a baby shower. This is a product I would use and I am sure it will be a common shower gift for new moms. I am not in the market for this now, but I see the usefulness and would use it if we had one.
Will the Sharks Bee Impressed?
Many baby products appear on Shark Tank every season. Some get deals, some don't. All of them, if they are truly useful, see a huge increase in sales. I predict SnoofyBee will sell a lot of inventory on show night.
As for a deal, the old "it's a product, not a business" objection always looms when a one product company pitches. The exception is when a product has such huge mass appeal or is incredibly innovative. I'm on the fence as to whether a Shark bites on this one.
Both Mark and Lori have baby products in their Shark Tank portfolios (they teamed up on Monkey Mat). They both bid on more; some deals closed, others didn't. Mr. Wonderful may start venturing into baby products for his "Something Wonderful" platform which targets newlyweds. After all, babies usually don't come too far after marriage.
Even so, baby products are a tough sell in the Tank. I'm not sure if this one gets a deal, but I think they'll sell a bunch of Snoofy Bees.