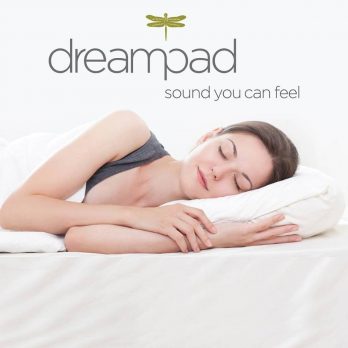 If you like to fall asleep to music, Dream Pad makes it easier. It's a high-tech pillow that lets you play music through your smart phone and turns your pillow into a speaker that literally puts the music inside your head. You hear the music through vibrations in the pillow and the sound waves stimulate the inner ear. If there's someone sleeping next to you, they won't hear what you're playing. It's more than just a pillow speaker – it's sleep science.
Randall Redfield, who presents the Dream Pad to the Sharks in episode 905, is familiar with science. He's the co-founder and CEO of Integrated Learning Systems. They train therapists and educators to use sound and movement therapy techniques. The Dream Pad was initially a tool the company used to soothe autistic kids to help them sleep better. When they started getting inquiries from parents about ordering additional pillows, they knew they had a mass market product on their hands.
Basically you just use a smart phone to play music (or whatever you want) into the pillow. The company has its own music – designed for enhancing deep sleep – available through an app as well. The pillow has a pocket to hold your phone so it won't flop around while you sleep. There are four models: slim support, medium support, firm support and memory foam. Prices range from $149-$179. For a few extra bucks, you can get a bluetooth receiver so you don't have to sleep with your phone.
Set up is simple, too. Pick a pillow, download the app, set your music and timer, connect to the pillow and sleep. While pillows aren't new, this delivery method is. Redfield likely wants some exposure for his business. Since Dream Pad is a subsidiary of an already successful company, he probably doesn't need the money, but snagging a Shark always helps a company or product explode.
My Take on Dream Pad
I use two very comfy down pillows when I sleep on my extremely comfortable Tempur Pedic mattress. I sometimes listen to music when I fall asleep, but I often watch TV as I prepare to slumber too. Presumably, you could run TV sound through the optional Blue Tooth receiver; that would be cool. I can't tell you how many times my wife asked me to turn down or shut off the TV when we're going to bed. Speakers in my pillow (that she can't hear) would solve that problem. The same goes for music.
At $179 for a memory foam pillow, the Dream Pad has about a $100 premium over a regular memory foam pillow. Presumably, the technology justifies the expense. I know a lot of people who listen to music to fall asleep. Something like this has big appeal. I'm not sure I'd rush out to buy one immediately, but it's a product I am very interested in.
The only concern I have is how comfortable is the pillow? I'm very attached to my down pillows and I like the way they work for me. Is changing out for a Dream Pad going to sacrifice my comfort? I'm sure there's a "getting used to it" period of adjustment, like with any new pillow. They say a lot of people order the slim pillow and put their existing pillow on top of it. The sounds come through fine and you don't have to adjust. That's likely the route I'd take. I am in.
Do Sharks Think this is a Dream Investment?
Mr. Redfield has one thing going for him from the start. He's not some crackpot inventor who stuck a speaker in a pillow. He's a legitimate businessman who runs an already successful company. Integrated Learning Systems isn't a product driven company though. He probably finds the trials of bringing a product to market far different than running an educational training business.
At first I though he could be seen as a "gold digger" by the Sharks. While I am sure there is a calculated publicity play at work here to a degree, he may genuinely need help with product manufacturing and sourcing. He also knows how a Shark helps accelerate any business, so I'm sure his motivation is sincere.
I predict Dream Pad gets bids from the Sharks, but I wonder if a deal is struck. Oftentimes in the Tank, experienced business people stand firm on their valuation. Someone with 20 plus successful years experience in business is far less likely to cough up equity than a start-up seeking traction in the marketplace. The valuation is what will dictate whether he gets a deal or not.