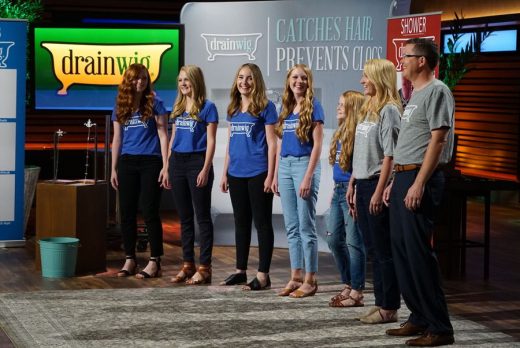 When you have five daughters with long hair, you need a DrainWig. Hair tends to clog up the bathroom shower drains; the more hair, the more frequent the clogs. Jennifer and Gifford Briggs had this problem and got sick and tired of not only clearing the drain, but handling the yucky sludge hair clogs create. That's how they came to invent the DrainWig.
The product is just a chain that sits in the drain. It catches hair in its links and, when the drain gets slow, you just pull it out and throw it away. No muss, no fuss. They have several infomercials about the product already and it looks like they've sold quite a few. They also sell another famous As Seen on TV product, The Turbo Snake, on their website. It's a handy tool for unclogging drains, but you have to (YUCK) touch the gook you pull out.
The Briggses bring all five of their daughters onstage when they pitch DrainWig in episode 902. This demonstrates the sheer volume of hair that inspired their invention. Two DrainWigs cost $19.95 (but wait there's more). If you order now, you get two more, FREE! That ought to be enough to keep your drains clear for a year and your hands clean too.
My Take on DrainWig
I have four daughters and they all have long, luxurious hair. For the past 20 years, I've been unclogging shower drains. I own a couple of Turbo Snakes and they work great, but it is a messy job. What makes DrainWig special is it's disposable. I'd definitely use this product and, since it's not as messy as the Turbo Snake, maybe my wife would too!
That's the market they want to catch – people like my wife who'd rather let someone else do it or who'd dump a gallon of toxic Drano down the drain to clear a clog. It's throw away money at 20 bucks for four, so I bet they'll sell a ton. I am in.
Will the Sharks Unclog Their Wallets and Invest?
Robert invested in the Drain Strain in season six. It catches clogs in a little basket before the drain gets clogged. It works, but it's a lot more expensive than a DrainWig. The basket also makes for messy clean-up. The Sharks will like the ease of use with this product.
I'm thinking Lori jumps on this and invests. It's a great Lori product: inexpensive, mass appeal and easily demonstrated. I'm thinking this goes on QVC the morning after the show airs. Other Sharks might bid, but I think Lori prevails.