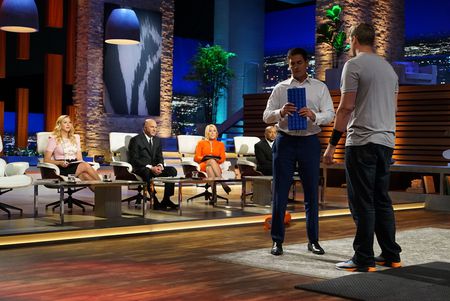 The Morph Foam Roller by Brazyn Life is the brainchild of former NFL player Nate Lawrie. Shark Tank must've done an NFL casting call – Lawrie follows Chris Gronkowski and his brothers from a few weeks ago. Lawrie created the Morph Foam Roller after suffering back injuries while playing in the NFL. He used a foam roller to help exercise and stretch out his back. He like the rollers so much, he wanted to take one with him everywhere he went.
Foam rollers for fitness aren't a new thing. Lawrie created one that collapses so it fits easily into a back pack or gym bag. It's a small innovation, but big enough to get the product funded on Kickstarter. With the Morph, you never have to leave home without your foam roller!
After the Kickstarter funded, it took Lawrie and business partner Tom Hopkins nearly a year to fulfill orders. Dealing with factories and production issues was a far bigger challenge than selling the idea. This often happens with new companies unaccustomed to getting a product made and delivered. They had plenty of pre-sales and they had supporters. That gives them proof of concept, but not a business.
The likely need for a Shark probably directly stems from production issues. While they're ironed out for now, a Shark can smooth things over since they all have relationships with overseas manufacturers. Whether a Shark is interested or not is another story.
My Take on the Morph Foam Roller
For the past six months, I've been going to the gym 5 times a week. I am happy to say I've lost 30 pounds and my body is getting into shape. I've used foam rollers at the gym to stretch and they are a perfectly good gym/exercise accessory. If you want to take one with you everywhere, the Morph fits the bill.
The thing is, while I like using foam rollers from time to time, I DON'T feel compelled to bring one with me everywhere I go. I like keeping my workouts confined to the gym. If I go on a vacation with my wife, I won't pack exercise equipment. That's just me. I'm sure plenty of folks want a product like this, but it just isn't my cup of tea.
Will Sharks be Brazyn and do a Deal?
I'm a bit confused by the lead up to Shark Tank for this company. I am writing this 5 days before they air and there's not one mention of Shark Tank on either the company website or their social media. When a company totally ignores a Shark Tank appearance, it's often due to the fact they don't want to call attention to NOT getting a deal.
As for the Sharks, the press photos show a lot of engagement with the product. Unfortunately, so far, the ONLY product Brazyn Life makes is the Morph Foam Roller. This is a classic "product not a company" product, so I think the Sharks are out. The only saving grace is perhaps Lori who might think it pairs well with some of her other Shark Tank fitness products. Sometimes, companies Lori invests in ignore the pre-show hype. Unfortunately for many of those companies, those deals don't close.