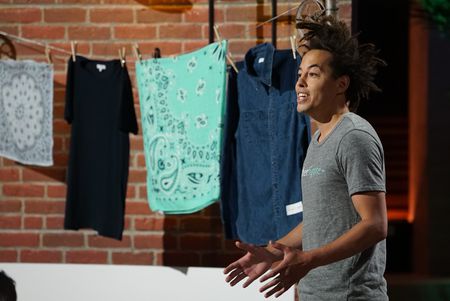 Google "fatherfigure" and you'll come up with multiple results for George Michael's hit song from 1988. Scroll down a bit and you'll find former Google employee Andrew Bentley's new lifestyle brand aimed a millennial dads. Bentley did a lot of research and found "dads are craving for companies to understand their needs and produce dad-centric products such as apparel and gear." When Bentley went looking for that gear, he found nothing, so he did a Kickstarter to launch his FatherFigure brand of dad clothes.
Bentley's research found "that it's important to nearly all dads to be actively involved in the caretaking of their children." While this isn't new information, young millennial dads are spending more time with their kids than any other generation. Bentley is banking on the fact that, along with more parenting responsibilities, new dads also want a cool shirt and a brand to call their own.
FatherFigure sells burp rags that look like bandanas and shirts with soft spots where babies touch the most while being held. The clothing is functional and hip – a boon to any millennial. In another milennial branding trend, FatherFigure partners with Fathers Incorporated,  an organization dedicated to "remediating the impact of father absence" and promoting healthy family relationships. The organization does excellent work in promoting good father/child relationships and ensuring dads – even non-custodial ones – have the resources to be active in their children's lives.
Bentley wants his swim in the Shark Tank to raise awareness for his brand and cash for his inventory. When he pitches the business in episode 902, he'll have two billionaires on the panel, so his odds go up significantly!
My Take on FatherFigure
For a good chunk of my kids' childhood, I was a work at home dad. My 13 year old never experienced me working outside the home. My generation called this being a "Mr. Mom," after the movie of the same name. Knowledge surrounding the role of fathers in their kids' lives isn't new. Dads are important to family structure, children's identity, and the social fabric as a whole. Millennials are just now discovering that because they're having kids!
When I played Mr. Mom, I was a jeans and tee shirt (or sweat shirt) dad. I never thought about comfort sleeves or cool looking burp rags. That's because I was too preoccupied chasing four kids around! When my youngest came along, I had the dad thing down pat. Fashion and branding was the furthest thing from my mind. I would not nor am I impressed with a "dad shirt."
That said, if Bentley can sell it, more power to him. As I'm fond of saying, "It all begins with the sale." Millennials are big on what I call "the tribe thing." If it works for Bentley, and I think it will, he'll sell a lot of shirts and create a solid tribe brand. I may be out, but there's one born every minute I think millennials will love it.
Do Sharks Figure a Deal?
This has all the makings of a guest shark deal. With Sarah Blakely on the panel, Bentley has a good shot. Blakely did essentially the same thing with Spanx as Bentley wants to do with FatherFigure. She created a brand based on women's differences and by catering to differing sizes and needs, she created a unique brand. Bentley's message may resonate with her.
Add Daymond to the mix and I see a strong possibility of a team bid with Daymond and Sarah. With their fashion expertise and Blakely's niche, they could have some synergy. The other Sharks aren't interested in brand niches, they want broad and deep.