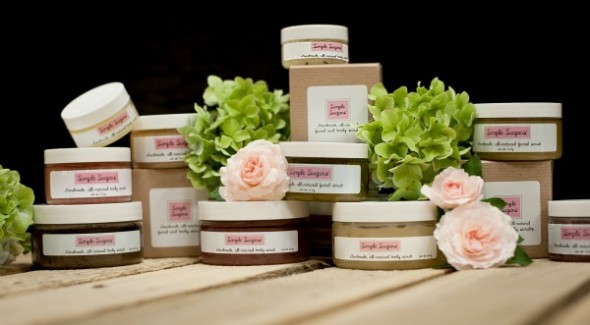 Simple Sugars "kidtrepreneur" Lani Lazzari pitches her line of sugar based scrubs to the Sharks in episode 419. Lani first started making the scrubs when she was 11 years old! Her mother challenged her to make a home-made Christmas gift people would like and Lani, who has sensitive skin, wanted to make an all-natural product that would be safe for very sensitive skin, so she developed Simple Sugars scrubs.  Friends and family liked them so much, she turned Simple Sugars into a business.
Lani joined the Powerlink Protégé program at Pitt's Institute for Entrepreneurial Excellence  in 2008 and was paired with a mentor. Lani's mentor was surprised to learn she was just 14 years old, but she was impressed with Lani's maturity. With the help of the Powerlink program and her mentor, Lani did $80K in sales! Simple Sugars sells in spas and on the company website.
Simple Sugars Shark Tank Recap
The young entrepreneur thoroughly impressed all the Sharks with her business savvy and excellent business plan. Daymond thinks Lani will be just fine without the Sharks, so he goes out. Lori loves Lani and the products, but thinks the market is too crowded, so she goes out. Kevin thinks the cosmetics market is too competitive and doesn't like Lani's business valuation, so he's out too. Robert can't give Lani an offer she'd take, so he goes out as well.
Mark, a fellow Pittsburgh native, likes Lani's hustle and business acumen. He offers $100K for 33% of Simple Sugars. Lani counters with 25%, but Mark stands firm because he'll have to invest a lot of time and resources into the business. Lani accepts his offer and she and Mark shake on a sweet deal!
Simple Sugars Shark Tank Update
The Shark Tank Effect smacked Simple Sugars in a very big way! Lani was told by the Shark Tank producers to prepare for 600-800 orders; in the week following the show, Simple Sugars received over 23,000 orders and sold over $1 million in product! Lani describes the mayhem that ensued as a "tsunami." The onslaught of orders caused some fulfillment and customer service issues for Simple Sugars in the month that followed the original air date, but Lani's hired more than half a dozen new staff to handle their Shark Tank Success and things are running smoothly. Someday, she wants to be the best company in America for women to work for.  Lani and Simple Sugars are featured in a Shark Tank Update segment in episode 505 and again in episode 602.
In the episode 602 update, Lani reveals she's at $3 million in sales and is getting distribution in over 500 Destination Maternity stores. She once said she was afraid Mark Cuban would treat her like a little kid, but claims he's been a big help. Mark thinks Lani is the real deal and will soon have Simple Sugars at $20 million in sales. Lani says she's living proof that hard work and persistence pay off.
In yet another update, Lani gets featured in Beyond the Tank Episode 202. A full recap of that segment is available here.
In 2016, she launched a Smooth for Men line which was successful.
In 2017, Lani was awarded a Thiel Fellowship, a 2 year program founded by billionaire Peter Thiel. The two year program grants fellows $100,000 and provides mentorship from foundation members. It's like college for entrepreneurs.
As of January, 2023, the company is in business and has $6 million in annual revenue with over $40 million in lifetime sales.
Posts About Simple Sugars on Shark Tank Blog
Company Information
Simple Sugars got Mark Cuban talking it up on Live with Kelly and Michael