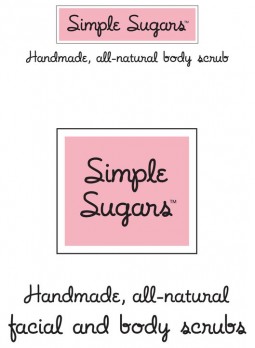 18 year-old entrepreneur Lani Lazarri pitches Simple Sugars, her line of sugar scrubs to the Sharks in episode 419. Lani invented the product when she was 11 and has built quite a business for herself: she sold over $60K worth of her Sugar Scrubs in 2008 and has been building the business and the brand with the savvy of an entrepreneur twice her age.
What are Sugar Scrubs?
Lani created Simple Sugars, back in 2006 when her mom suggested she made hand-made Christmas gifts for family and friends. Lani, who has sensitive skin, sought to create a gift that could gently scrub sensitive skin with all natural ingredients. She says "if you won't eat it, you probably shouldn't be putting it on your skin."
Simple Sugars sugar scrubs are made from pure cane sugar and one of the following oils (depending on the product): organic soybean oil, grape seed oil, safflower oil,  jojoba oil, or sweet cherry kernel oil.  The sugar scrubs also contain natural and organic ingredients (for example, lemonade contains fresh lemon zest,chocolate contains real cocoa powder etc.), botanicals, essential oils, botanical fragrances,  Vitamins C and E and citric acid, which balances the pH of the formulations.
Will Sharks be Sugary?
Lani is the latest youngster in a season featuring many young entrepreneurs. Don't expect the Sharks to be too harsh on her, in fact, I'd expect this segment to be sugary sweet. Lani looks like a smart young lady and it appears her sugar scrubs have a nice niche. This will be a "love-in" segment with the star element being Lani's story.
The Sharks will want to know the usual things and I believe Lani will show viewers her sugar scrubs in a positive light. Whether or not the Sharks invest, I'd be shocked if they gave Lani a hard time. Her shopping cart is set up on Shopify, which is Daymond's eCommerce solution of choice. There's also a reference to "No-Lo" (short for No Lotion) on the main page of her website. One of Daymond's famous quips, from episode 405, is "YOLO" (short for You Only Live Once), so maybe Daymond did a deal and had some of his semantic style inserted into the marketing message!
Daymond likes working with young entrepreneurs. He is involved with Start-Up America, which assists young entrepreneurs, and he has a history of working with them. He'd be my choice to do a deal, but if Lori thinks sugar scrubs are a "hero," she could be a player too.