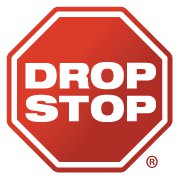 The Carmuda Triangle is that space in your car between the front seat and center console. That's where loose change, cell phones, lighters, the occasional french fry, and an assortment of other items fall, sometimes never to be seen again! We've all been there, scrunching our hands between the seat and console searching for lost treasure in the Carmuda Triangle.
Entrepreneur Marc Newburger nearly killed himself reaching into the Carmuda Triangle while driving one day and the experience caused him, along with friend and business partner Jeffrey Simon, to invent Drop Stop.
What is Drop Stop?
Drop Stop is like a life boat for the Carmuda Triangle. It's a foam wedge, with a slit for the seat belt receptacle, that fills the gap between front seat and center console. Instead of slipping through the cracks, all those dropped items slide back onto the seat or onto the floor where they're easily retrieved. It's one of those "why didn't I think of that" type of products that's made for TV, in fact, they have a mini infomercial produced. Over 150,000 Drop Stops have been sold and they sell for $19.99 for a set of two.
Do the Sharks Swim in the Carmuda Triangle?
With over 240 million registered vehicles in the USA, the market for Drop Stop is HUGE. Drop Stop meets all the criteria for a successful consumer product: it solves a problem, it has mass appeal, and it has a good price point. Assuming sales volume, patents, and business valuation are all in order, I expect multiple offers. I am "IN."
*****SPOILER ALERT*****
I believe Lori Greiner will invest in Drop Stop. In an unreleased press photo, she's seen hugging the Drop Stop guys on the set. Lori doesn't dole out hugs unless a deal is done, so ABC let the cat out of the bag on this one. Lori will invest $300K in Drop Stop!

They were also on The View together:
Drop Stop Commercial: