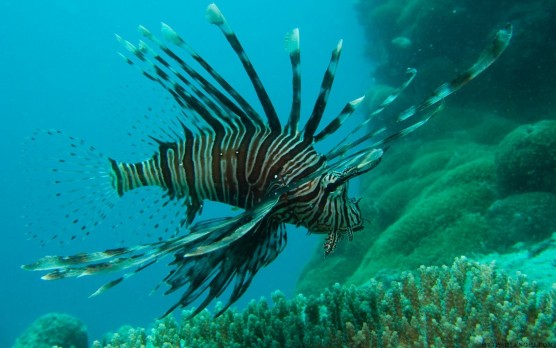 Lionfish look nice in an aquarium with their intricate colors and feathery fins, but, just like a lion, they can be dangerous. Those feathery fins are actually venomous spines that can be fatal to humans, but that isn't what makes the Lionfish so dangerous. Lionfish are native to Pacific Ocean near Indonesia, but they've invaded the Caribbean Sea and Southern Atlantic Ocean and are considered an invasive species. Scientists speculate that a wrecked aquarium during Hurricane Andrew released Lionfish into the ocean and/or negligent aquarists released them deliberately. However they got there, they are threatening the reef ecosystems in their non native waters and eradication efforts are highly encouraged.
Traditional Fisheries Seeks to Eradicate Lionfish
Traditional Fisheries, who pitches in the Shark Tank in episode 419, has an old-fashioned way of controlling the Lionfish population: catch 'em and cook 'em! Despite being poisonous, the Lionfish is a delicate and tasty fish. Traditional Fisheries made selling Lionfish as a food product their business, so they're killing two birds (or fish) with one stone: providing Lionfish eradication services and making some money selling fish.
Traditional Fisheries has received a lot of media attention and accolades for their efforts, but they don't catch the fish themselves, they contract with local fisherman.  The business embodies everything a good business should ideally be: profitable enough to provide income for the owners, employment opportunities for local fisherman, and a unique and quality product for consumers all while serving the larger purpose of re-balancing an important ecosystem.
Do Sharks bite on Lionfish?
Traditional Fisheries is one of the more unusual businesses to appear in the Shark Tank this season. Even if they have good numbers and a sound business model, I'm not sure any of the Sharks will be interested. This has the "this is cool, but it's not for me" response from the Sharks written all over it. I could potentially see Robert and/or Mark taking a flyer on this if it isn't big money, but I'm willing to bet the margins are too thin and that Sharks won't bite on Lionfish.