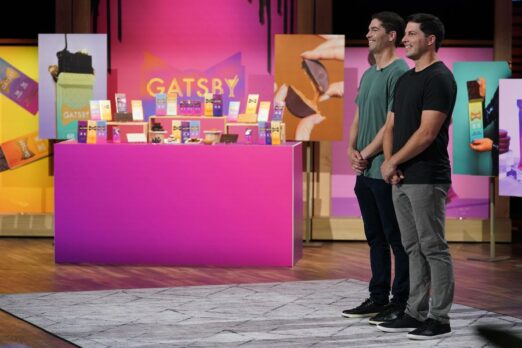 Brothers Ryan and Doug Bouton want the Sharks to bite on Gatsby Chocolate, their plant based, low calorie chocolate bars and peanut butter cups, in Shark Tank episode 1501 – the season 15 premier. The brothers are no strangers to low calorie treats. Doug founded Halo Top, a low calorie ice cream alternative that outsold Ben and Jerry's in 2017 and 2018. Blue Bunny Ice Cream's parent company acquired that business in 2019 for an undisclosed amount.
Gatsby Chocolates have half the calories of other chocolate bars and peanut butter cups. Their secret is the "chocolate" is entirely plant based. A serving of a Gatsby bar has 65 calories where "regular" chocolate bars have 150 calories or more.
Gatsby is available at Wal Mart stores nationwide and on Amazon. They cost around five bucks a bar, but you can try a bar for free HERE. With a succesful acquisition under their belts, the Bouton brothers likely have a fair amount of cash on hand. Why they need a Shark is a mystery.
Company Information
Posts about Gatsby Chocolate on Shark Tank Blog
Gatsby Chocolate Shark Tank Recap
Ryan and Doug enter the Shark Tank and explain that people love chocolate, but they're loaded with sugar, calories and fat. They created a chocolate bar with half the calories and 75% less sugar than most of the other chocolate bars out there. Their products have health in mind but zero compromise on taste. They call it the "Halo Top of chocolates"" and Doug tells the Shark he's the co-founder of Halo Top. The guys want to do the same thing with Gatsby that they did for Halo Top[. They're seeking $500,000 for 5% of their business. Daymond immediately says "I'm out!"
The Sharks try their samples and Doug says the Peanut Butter Madness is their best seller. The Sharks like their samples and Doug tells the Sharks they use allulose as their sugar substitute. The bars are sold in Albertson's, Wal Mart, Safeway and Sprouts. They're in over 6000 stores. Sales last year (2022) were $2.5 million and most of the sales were in the 4th quarter.
A bar retails for $3.99, wholesales for $2.70 and it costs $1.90 a bar to make. They are working towards getting to a 50% margin. Candace wants to know why they need a Shark. Doug says they need help because they have national distribution without national awareness. The Sharks don't like the name.
They have no free cash flow and project 2023 sales to be around $2 million. They  lost $3.5 million in 2022. Kevin questions their $10 million valuation. Daymond thinks the valuation is fine but says he can't bring value to the table; he's out. Candace asks what made him want to start another company and Doug says "stupidity."
Lori offers $250,000 for 20% equity and a $250,000 loan at 6%. Kevin offers $500,000 as venture debt for 12%. Candace thinks the calories will trigger "toxic diet culture," but she's out. Mark asks if they're open to 20% and Doug says he wants someone to be the face of the brand. Lori says she'll go to 25% for that type of deal. When Doug starts asking Mark if he'll help find the face of the brand, Lori reverts to her original offer. Mark calls Lori over and they talk. Together, they offer $500,000, $250,000 in debt and $250,000 in equity for 20% and when they hit $10 million in sales, they get another 10%. At $20 million, they get an additional 5%. Doug says the second trigger to up the percentage of equity should be at $50 million and the Sharks agree.
Gatsby Chocolate Shark Tank Update
The Shark Tank Blog constantly provides updates and follow-ups about entrepreneurs who have appeared on the Shark Tank TV show. Once an episode has aired, we monitor the progress of the businesses featured, whether they receive funding or not and report on their progress. The Shark Tank Blog will follow-up on Gatsby Chocolate & Ryan and Doug Bouton as more details become available.