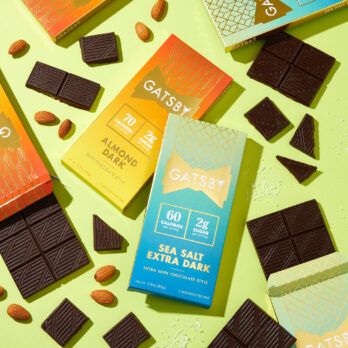 In the world of artisanal chocolates, where quality meets innovation, one company stands out like a timeless classic – Gatsby Chocolates. Founded with a passion for crafting exquisite chocolates and a commitment to providing a quality, low calorie confection experience, Gatsby Chocolate has become a name synonymous with luxury, elegance, and the pursuit of chocolate perfection.
Gatsby Chocolates is a company deeply rooted in tradition, drawing inspiration F. Scott Fitzgerald's iconic character, Jay Gatsby, who was known for his lavish parties and a penchant for the finer things in life. In the same vein, Gatsby Chocolate aspires to bring a touch of that luxury into the lives of its customers. Established in 2022, the company's founders, Ryan and Doug Bouton, were captivated by the glamour and charm of the 1920s, and they set out to create chocolates that would evoke the spirit of the Gatsby era.
They also wanted to start another business. They successfully built and sold (for an undisclosed amount) Halo Top Ice Cream, a company that produces low calorie ice cream. At its peak, Halo Top was doing $250 million per year in sales. Since they had a non-compete agreement as part of the sale, they couldn't do ice cream again, so they picked chocolate. Lucky for them, the US cghocolate market is BIGGER than the ice cream market and they're first in the low calorie chocolate space.
Gatsby Chocolate's products can be found in Wal Mart stores everywhere. They don't sell direct on their website, but you can order them on Amazon.
My Take on Gatsby Chocolates
I tend to shy away from sweets because I watch my weight, but I do LOVE chocolate. Unfortunately, the high calorie count limits my chocolate consumption. At 70 calories per serving, it has 1/3 the calories of a Hershey Bar – that's pretty good!
There are a lot of options, too. There's Almond Dark Chocolate, Peanut Butter Cups, Sea Salt Dark Chocolate and White Chocolate. At around $5 a bar, they're a tad more expensive than a Hershey Bar, but the low calories make it worth it. On my next Wal Mart run, I'm going to pick up a bar or two and try them out. I'll let you know what I think.
Do Sharks Eat Chocolate?
Doug and Ryan's past success with Halo Top is sure to impress the Sharks. Scaling a business in the ice cream space is a tough road to hoe, but they did it and had a successful exit. That could be part of the problem with this pitch. I believe they'll be seen as "gold diggers" in the Shark Tank.
First of all, they must be sitting on a fair amount of cash from the Halo Top sale. Why would they need a Shark's money? Second, they have nationwide distribution in Wal Mart – a behemoth in the retail space. Most businnesses appearing in the Tank want a Shark's help getting them into the Wal Marts of the world. While I think the Sharks will like the chocolate, I don't think they'll make offers. The guys might even get scolded for being "gold diggers."