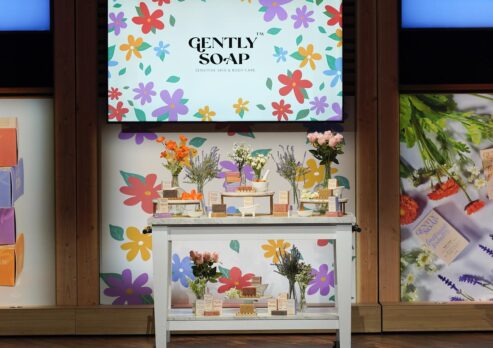 Kristen Dunning, the creative mind behind Gently Soaps, strives to create products that not only benefit consumers but also the environment. Kristen's journey to developing this eco-friendly soap product has not only revolutionized the way we clean ourselves but also contributes to a greener and more sustainable future. Born and raised in the Atlanta are, she developed very bad eczema at an early age. This problem would eventually become the driving force behind her innovative soap product.
The story of Gently Soaps began wbefore Kristen was studying medicinal plants at the University of Georgia, She used to spend time at her grandmother's house where she learned of the healing powers of certain flowers, herbs and other plants. During her studies, she became increasingly aware of the harmful impact of conventional eczema treatments on her skin. Many soaps and topical ointments contain harsh chemicals that can do as much harm to the skin as they purport to help
Determined to make a difference, Kristen embarked on a journey to create a soap that would be gentle on both the skin and the planet. She spent her college years researching and experimenting with natural ingredients and sustainable packaging solutions. Her dedication paid off when she finally developed the formula for Gently Soap.
The Unique Features of Gently Soaps
Gently Soap is not just another soap; it's a testament to Kristen's commitment to sustainability and innovation. There are many unique features that set Gently Soaps apart. Gently Soap is made from a carefully selected blend of all-natural ingredients, free from harmful chemicals, sulfates, and artificial fragrances. The formula is gentle on the skin, making it suitable for people with sensitive skin. As an additional bonus, unlike many commercial soaps that contain synthetic compounds harmful to the environment, Gently Soap is fully biodegradable. This means that when it goes down the drain, it doesn't harm aquatic ecosystems. Kristen is also passionate about reducing waste. Gently Soap is packaged in eco-friendly and recyclable materials, minimizing its carbon footprint. Gently Soap is not tested on animals, adhering to Kristen's ethical values and commitment to cruelty-free products.
Since its launch, Gently Soap has gained popularity among eczema sufferers and others. Kristen's invention has received numerous awards for its sustainability and innovation. The product has also been featured in several magazines and online platforms dedicated to eco-friendly living and skin care.
She actively promotes her products through her social media platforms and participates in various environmental initiatives and campaigns. While she's only in a handful of small boutique type stores for now, you can find all her products on Amazon. She's hoping a Shark will help her scale and go national.
My Take on Gently Soaps
About once a year, the wife and I take a trip to Tarpon Springs here in Florida. Known as the "Sponge Capitol of the World," it's a Greek sponge diving community. There are also great Greek and seafood restaurants and some great shops. After we've had some food, we browse around the shops.
We always stop in this one particular store where we buy soap. Like Gently Soaps, the soaps in this shop are all natural and either goat milk or Shea butter based. They're so much better than the stuff on regular store shelves and we never seem to buy enough to hold us over until our next visit. I offered the owner to set up a webstore so she could sell online and expand her business, ut she's 80 years old and "doesn't want to bother with that." If Kirsten's soaps are as good as the ones in Tarpon Springs, she'll find herself a lot of customers.
Will Sharks Clean Up With These Soaps?
Kirsten has a good story and, presumably, good products. I'm sure the Sharks will like both her and the soaps. While it appears she has a good business on the surface, sales will be a big factor on whether she gets a deal or not. My "spidey sense" is telling me she leaves with a deal.
Back in season 6, Daymond declined to make an offer for Swag Essentials, a line of soaps, but he did offer to mentor entrepreneur Lydia Evans. Many other soap products have appeared on the show, some got deals, others didn't. Either Lori or Daymond will make offers. If Lori thinks it will sell on QVC, she'll be in. I think Daymond makes an offer too. For the past few seasons, he's been investing in people and products that "really need" a Shark's help.