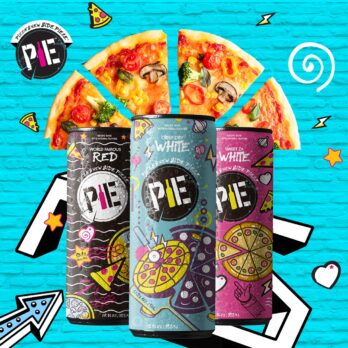 Pie Wines is out to prove that in the world of wine, innovation often takes center stage. Kevin Klein and Josh Green are two individuals with a shared passion for wine, pizza and a vision for bringing a fresh perspective to the wine industry. They met as kids and are lifelong friends. Over many pizzas (their favorite food), they developed a deep appreciation for the art and science of winemaking. In short, they wanted wine that would pair well with pizza.
In 2022, Kevin and Josh decided to embark on their own winemaking journey. They shared a dream of creating wines that were approachable, playful, and good with pizza. Thus, Pie Wines was born. The "gently carbonated" red wine, dry white wine and sweet white wine come in loudly decorated cans. A 4 pack costs $20 and a 12 pack costs $60.
The name "Pie Wine" may seem unconventional, but it perfectly encapsulates the essence of their brand. Just like a homemade pizza evokes warmth, comfort, and nostalgia, Pie Wine aims to create wines that evoke similar feelings, making them perfect for sharing and creating lasting memories.
Unfortunately, even with all the marketing jargon surrounding the guys' promtion of this brand, they don't have any product for sale. The website is selling on a pre-order basis on show night. That's not a good sign.
My Take on Pie Wines
I like a good pizza now and then, but my beverage of choice with a pizza is a cold beer. I'll drink wine with meals, but not pizza. When I do have a glass of wine, I like it uncarbonated. Wine with carbonation is strictly kids stuff.
That may be what their angle is. Their marketing and packaging has a youthful feel to it. If they're targeting the younger set, they may be on to something. As for me, I'll stick to beer with my pizza.
Will Sharks Drink This Wine?
I think Pie Wines  leaves without a deal. If they did a deal with a Shark, they'd have product for sale. Daymond usually doesn't go for alcohol related businesses. Neither does Lori. Candace Nelson has a food background so she could make an offer, but I don't think she does.
Mark won't invest because he has an interest in BeatBox Beverages, a business he invested in back in season 7. That business has around $60 million in lifetime sales. That leaves Kevin. He's the wine guy in the Tank, but I think he'll either scoff at the brand or make such a ridiculous offer, the guys will decline. While they may not get a deal, the Sharks will surely toast to "les Chevaliers du Tastevin!"