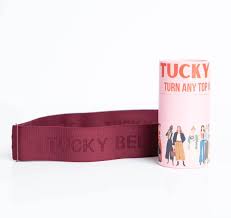 Entrepreneur Brooke Knaus created The Tucky Belt because she was noticing a fashion trend on Tik Tok. Women were tucking in their tops to their bras to get the "tucked in look." Brooke says the look made her feel better about her body after having her second child, but tucking her top into her bra showed too much torso. She found an elastic belt from another outfit and that was the first prototype of  the Tucky Belt.
The elastic belt couldn't hold sweatshirts up though. She needed something comfortable to wear, could hold up a bulky sweatshirt without slipping, and adjustable to various crop lengths on her torso. After a lot of searching, she found a manufacturer and started producing them for sale. The Tucky Belt is jacquard elastic lined with silicone strips for extra grip and it's fully adjustable from size 00 to a size 14. The belts come in 3 colors: blush, burgundy and cream. They can be purchased on her website for $30.
Brooke is no stranger to the spotlight, so she won't be intimidated in the Tank. She was Miss Vermont in 2009. She also served as Miss Sprint Cup. One of the reasons she was Miss Sprint Cup is she is married to Chad Knaus, a six-time Sprint Cup champion crew chief at Hendrick Motorsports with driver Jimmie Johnson. She claims she doesn't know much about building or running a business, so she likely wants a Shark mentor.
My Take on The Tucky Belt
My girls have been doing the "tuck look" since the early 2000's. I've seen them use leather belts and their breas to accomplish the feat. I asked my 18 year old daughter if she'd drop $30 on this and she said "sure." She thought it was a cool product and showed me some examples of the look on her Instagram. It's certainly not anything I'd ever use, but I wish Brooke the best in the Tank.
Do Sharks Tuck In a Deal?
Unless she comes in with an extremely attractive valuation and good sales numbers, I don't think she gets a deal, unless she's willing to give up a big chunk of equity. Mr. Wonderful could make a royalty offer, but I don't think Brooke leaves with a deal.
The reason I think this is her website. It doesn't have the look and feel of a Shark Tank company site. Usually when a business does a deal with a Shark, the website gets a makeover. While it's a perfectly fine site, I've been doing this long enough to know a Shark site when I see it.