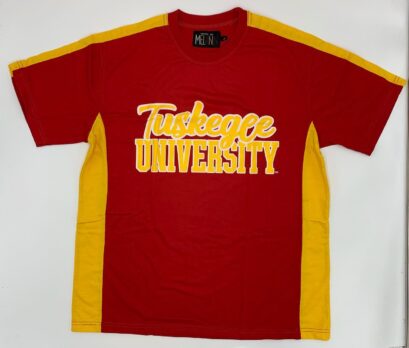 Ashley Jones created Tones of Melanin Apparel in her dorm room at Norfolk University. She was a sophmore at Norfolk University and she didn't like the styles of University braned clothing that were available at the school bookstore. Like any self respecting entrepreneur, she saw a need and filled it. Her first tees were sold on campus out of her backpack. That was in 2017.
Fast forward to 2023 and she's gone from selling just tee shirts oo an entire  line including windbreakers, hoodies, hats and much more. She also has licenses with every HBCU (Historically Black Colleges and Universties), historically black fraternities and sororities and deals with Dick's, Fanatics and Belk department stores. She wants to bring more awarenes to HBCUs with her products.
Tone of Melanin Apparel is growing fast. Ashley's designs have really caught on with the HBCU community. They have a collegiate look fused with a vintage street look. Her aim is to make the clothing acessible and affordable while bringing awareness to HBCUs. She likely wants a Shark's help with her rapidly expanding business.
My Take on Tones of Melanin Apparel
I like the designs. They really pop, but I'm not a customer. I buy UMASS Amherst apparel because that's where I went to college. I also buy Case Western, Saint Joseph's College, Kenyon, Michigan State and Flagler College apparel because that's where my kids go/went.  If she starts licensing her designs at these schools, I'll definitely pick up a shirt or sweatshirt!
Do Sharks see a Fit?
Daymond would be the perfect Shark for this business. The motivation to create Tones of Melanin Apparel is similar to Daymond's motivation to create FUBU. He's been down the road before and has invested in black owned clothing businesses before – most recently SPERGO. He'd bring a wealth of knowledge, some street 'cred, and more licensing contacts. If Ashley could get licenses for all colleges and Universities, she'd be sitting on a gold mine. Whether Daymond makes an offer remains to be seen, but he'd be the perfect Shark.