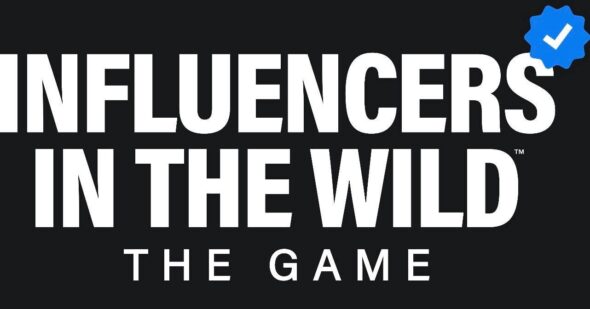 George "Tank" Resch is just the right guy to invent Influencers in the Wild the Game. After all, he's a well known influencer himself. The ABC press release for this episode says some of the Sharks recognize him during his pitch, so he must be pretty well known if he's on the Sharks' radar. He created the game as a spin off of one of his Instagram pages called, not surprisingly, Infulencers in the Wild. That page features wanna be influencers who submit videos of them doing silly things.
One component of Influencers in the Wild the Game involves taking videos of people doing silly stuff at the prompt of one of the game cards. They're encouraged to submit thoose videos to the aforementioned Instagram page.  Other cards ask you questions about your friends at the game table and there are reward and penalty cards too. As you make your way around the game board, some things increase your number of followers and others decrease them. At the end of the game, whoever has the most followers wins. The game costs just $19.99 on Amazon.
Resch has tens of millions of followers across several social media platforms, so he probably has some good social outreach to publicize his game. He also probably has some cash too. The former fencing salesman has been a full time influencer for several years. One doesn't quit their job and do a full time internet gig unless there's money involved; take it from a guy who knows. What he probably wants is the social "juice" of teaming with a Shark.
My Take on Influencers in the Wild the Game
This sounds like a fun game. Anything that gets a group of friends and/or family together to do stupid stuff is a good time. The added possibility of getting someone to do a video and have it potentially go viral makes it that much more fun. The game prompts social engagement with the players to and has some really crazy questions you ask each other as you play.
We get together with friends to play Cards Against Humanity every once in a while. Hilarity ensues. If you've ever played it, you know why. Influencers in the Wild the Game seems to me like it's that type of game. I'm in.
Will Sharks Be Influenced to Invest?
This seems like it could be a pitch designed to be a commercial. If Resch comes in with a ridiculous ask, we'll know he's there for the exposure; but if he comes in with a reasonable ask, he wants the social juice a Shark brings to the table. If that's the case, he'll field some offers.
All the Sharks have big social media followings, but none has as many as Resch. That said, combining a Shark's social media reach with Resch's would make for epic organic marketing. We could even see a five Shark deal on this one.