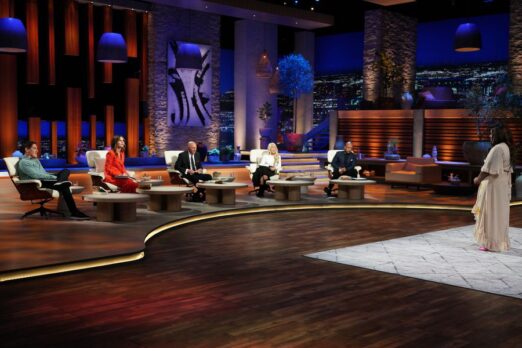 Episode 1501 is the season premier of Shark Tank season 15! Guest Shark Candace Nelson joins Mark, Kevin, Lori and Daymond in evaluating four new businesses and deciding if they're investment worthy. Will any Sharks invest tonight?
Kristen Dunning hopes to clean up in the Tank with Gently Soap, her 100% natural, vegan, essential oil free, fragrance free, dye free, and palm-oil free soaps for people who suffer from eczema. Kevin Klein and Josh Green give the Sharks a taste of Pie Wine, their gently carbonated wines that they claim are the perfect wine to enjoy with pizza. Brothers Ryan and Doug Bouton hope the Sharks bite on Gatsby Chocolate, their plant based chocolate bars and peanut butter cups that have half the calories of "regular" chocolates. Paige Brattin seeks a Shark investor for Worthy Brands, her eye and chemotherapy port patches that feature fun designs and and skin sensitivity friendly materials. Will the Sharks bite on any of these businesses?
Tonight's Update segment will feature a look at guest Shark Candace Nelson's entrepreneurial background.
Entrepreneurs
---
Update Segment – Candace Nelson Background Segment
There are 26  Shark Tank Episodes for Season 15. This season features the six "regular" Sharks: Mark, Daymond Kevin, Lori, Barbara and Robert. There are three new guest Sharks for season 1: Jason Blum, CEO and founder, Blumhouse; Michael Rubin, chairman and CEO, Fanatics; and Candace Nelson, founder of Sprinkles Cupcakes, founder of CN2 Ventures, and co-founder of Pizzana. The returning "recurring Sharks" are  Emma Grede, CEO and co-founder of Good American, and founding partner of SKIMS; and Daniel Lubetzky, founder of KIND Snacks. Casting is currently closed, but it never hurts to get a head start on season sixteen! If you would like to appear on the show, check out our Auditions and Casting information.
Episode 1501 – The Shark Investors and Entrepreneurs
The Shark Tank Episode 1501 entrepreneurs will make their best pitch to the panel of five Shark investors who will use their own money if they choose to invest. The Shark Investors negotiate on the spot without any previous information, which differs from typical negotiations between venture capital investors and entrepreneurial start-ups.
Companies pitching the Shark Investors must go through a rigorous due diligence process before an on-air deal is completed. Shark Tank Blog follow ups help you keep track of the companies that end up successful and the ones that don't complete their deal.
Thank you for reading SharkTankBlog, the number one site for Entrepreneurs, Investors and Fans. Our content updates multiple times day, giving you the latest information on Episode 1501, Season 15, and all other seasons and episodes.
Episode 1501 Press Release
The season premiere features passionate entrepreneurs hoping to score an investment deal with the Sharks. Innovative products include a low-calorie chocolate, wine to pair with pizza, a medical eye patch for children and an herbal soap for eczema.